Get your bargain-hunting on and peruse Dollar General's, Penny List.
Hey there, bargain hunters! Prepare to be amazed by the incredible deals waiting for you at Dollar General – for just one penny each! And guess what? You don't have to fiddle with coupons to enjoy these fantastic steals.
So, are you eager to master the art of penny shopping? We've got you covered. We'll teach you everything you need to know about the Dollar General Penny List, and soon, you'll be snagging unbelievable finds like a pro.
Forget basic couponing at Dollar General; the Penny List is where the real magic happens.
But take note: the quest for penny items isn't for the faint-hearted. You'll need determination and a dash of luck to hit the jackpot. Don't worry if you don't strike gold on your first few attempts – once you score big, those fruitless shopping trips will be a distant memory. So, let's dive into the world of penny shopping and explore the treasures that await!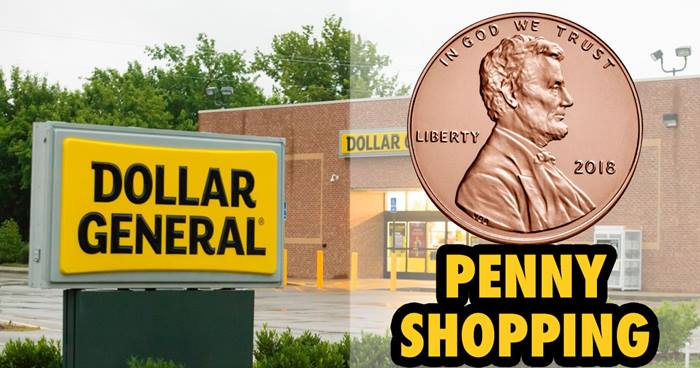 What's the Deal with Dollar General Penny Items?
Dollar General penny items are specific products that the store struggles to sell. Often, these items have already been massively discounted, usually by over 90%. To help employees identify these products, they're marked down to $0.01, signaling staff to remove them from the sales floor. However, sometimes these items slip through the cracks and remain on the shelves for customers to discover. And here's a hot tip: these markdowns usually happen on Tuesdays, so make sure to drop by the store early to increase your chances of finding them!
The key to successful penny shopping is paying close attention to the details. The size, flavor, and count of the item you're hunting for must match the penny item specifications to qualify for the $0.01 price. So keep your eyes peeled and happy hunting!
Just a heads up: never, ever, ever ask the employees about the penny list.
Some employees might not be aware of it, and others who do might just tell you their store doesn't have any penny items. Always treat your cashiers with kindness. You might come across some difficult employees, but if you've got a copy of the store's penny policy, just show it to them politely, and they should let you purchase any penny items that haven't been pulled from the shelves.
Now, this might sound a bit harsh, but when you find penny items, go ahead and clear the shelves! If you don't, the employees might remove the items you left behind, and they'll end up in the trash. But remember, don't leave a mess behind – it's not fair to the employees.
When you're on the hunt for penny items, always remember that the item has to be the exact same SKU and size! No exceptions!
And hey, if you haven't already, make sure you download the Dollar General app and keep it updated. There's a super-handy price scanner at the top-right corner where you can check item prices and confirm they're really those penny deals you're after.
July 2023 Penny Items
Penny List for July 4, 2023
Brown Dot Home
Good & Smart Trail Mx Almonds 2.75 oz – UPC: 753519472515
Good & Smart Nuts Whole Cashews 2 oz – UPC: 753519473802
Additional Markdowns for July 4, 2023
Father's Day Seasonal – 90% off
Father's Day Fall Hardware – 50% off
Graduation Party & Seasonal – 70% off
Memorial Day Home – 50% off
June 2023 Penny Items
Penny List for June 27, 2023
Graduation 17-inch Balloon Graduation 1ct – UPC: 11179195084
Graduation 18-inch Balloon Graduation 1ct – UPC: 11179195091
Stationery Balloon Cap Congrats 1ct – UPC: 430001912284
Stationery Balloon Class of 2023 1ct – UPC: 430001912222
Stationery Balloon Congrats Grad 1ct – UPC: 430001912215
Stationery Balloon Stick 1ct – UPC: 430001912291
Additional Markdowns for June 27, 2023
Brown Dot Home – 90% off
Father's Day Seasonal – 70% off
Graduation Party & Seasonal – 50% off
Gray Diamond Socks – 50% off
Green Star Socks – 50% off
Hanes Reusable Face Masks – 70% off
Purple Dot Home – 50% off
Reusable Face Masks & Accessories – 70% off
Select Hand Sanitizer – 50% off
Penny List for June 20, 2023
Yellow Dot Toys
Additional Markdowns for June 20, 2023
Brown Dot Home – 70%
Father's Day – 25% off
Grey Diamond Socks – 50%
Green Star Socks – 50% off
Hanes Reusable Face Masks – 70% off
Non-Core Picnic Paper – 10% off
Purple Dot Home – 50% off
Reusable Face Masks & Accessories – 50% off
Select Air Care (Non-Core) – 25% off
Select As Seen On TV – 10% off
Select Hand Sanitizer – 50% off
No Penny List for June 13, 2023
Penny List for June 6, 2023
Mother's Day Pop-up Cards
Mother's Day Seasonal
Mother's Day Socks
Twinkie Hostess Twinkie Orange Creme 10.86 oz
Additional Markdowns for June 6, 2023
Brown Dot Home – 50% off
Gray Diamond Socks – 50% off
Green Star Socks – 50% off
Hanes Reusable Face Masks – 70% off
Mother's Day Pop-Up Cards – 90% off
Mother's Day Seasonal – 90% off
Mother's Day Socks – 90% off
NC Picnic Paper – 10% off
Reusable Face Masks & Accessories – 50% off
Select Air Care (Non-Core) – 25% off
Select As Seen On TV – 10% off
Select Hand Sanitizer – 50% off
Yellow Dot Toys – 90% off
May 2023 Penny Items
No Penny List for May 30, 2023
Additional Markdowns for May 30, 2023:
Gray Diamond Socks – 50% off
Green Star Socks – 50% off
Mother's Day Pop-up Cards – 90% off
Mother's Day Seasonal – 90% off
Mother's Day Socks – 90% off

Dolla General Penny List for May 16, 2023
Stationery Balloon Square Dot – UPC: 430001909239
Stationery Balloon Floral Heart – UPC: 430001909246
Stationery Balloon Flower Shape – UPC: 430001909253
Stationery Stick Balloon Marble – UPC: 430001909260
Stationery Stick Balloon Floral – UPC: 430001909291
Mother's Day 17-inch Balloon Floral Heart – UPC: 11179131389
Mother's Day 17-inch Balloon Floral Round – UPC: 11179131396
Mother's Day 15-inch Balloon – UPC: 11179131402
Mother's Day 15-inch Balloon – UPC: 11179131426
Brown Dot Home – 50% off
Back To School Stationery & Hardware – 90% off
Calendars – 90% off
Command Clips Light 1ct – 90% off
Fall/Winter Gray Dot Apparel – 90% off
Fall/Winter Hardware – 90% off
Hanes Reusable Face Masks – 70% off
Mother's Day Pop-Up Cards – 50% off
Mother's Day Seasonal – 50% off
Mother's Day Socks – 50% off
Reusable Face Masks & Accessories – 50% off
Select Hand Sanitizer – 50% off
Yellow Dot Toys – 50% off
Penny List for May 9, 2023
Easter Bake
Easter Candy
Easter Party
Easter Seasonal
Additional Markdowns for May 9, 2023:
Brown Dot Home – 25% off
Back to School Electronics – 50% off
Back to School Hardware – 70% off
Back to School Stationery – 90% off
Calendars – 90% off
Command Clips Light – 70% off
Fall/Winter Blue Dot Apparel – 90% off
Fall/Winter Gray Dot Apparel – 70% off
Fall/Winter Hardware – 70% off
NC Picnic Paper – 10% off
Red Triangle Socks – 90% off
Select Air Care (Non-Core) – 25% off
Select As Seen On TV – 10% off
Winter Hardware – 70% off
Dollar General Penny List for April 2023:
April 2023 Penny Items
Added: April 11, 2023
Penny Items:
Additional Markdowns:
Back To School Electronics – 50% off
Back To School Hardware – 50% off
Back To School Stationery – 70% off
Calendars – 70% off
Easter Candy – 25% off
Easter Seasonal – 50% off
Fall/Winter Blue Dot Apparel – 70% off
Fall/Winter Gray Dot Apparel – 70% off
Fall/Winter Hardware – 50% off
NC Picnic Paper – 10% off
Red Triangle Socks – 70% off
Select Air Care (Non-Care) – 25% off
Select ASOTV – 10% off
No Penny List for April 4, 2023
No Penny List for March 28, 2023
Added: March 21, 2023
Penny Items:
Red Dot Home
Holiday Plastics

Hefty Tote 32 Qt, 1 ct – UPC: 25947716128
Housewares Deco Box Small, 1 ct – UPC: 875160029419
Housewares Deco Box Large, 1 ct – UPC: 875160029426
Sterilite 45 Gallon Tote Wheeled, 1 ct – UPC: 73149948663
Sterilite Bow Box Rod, 1 ct – UPC: 73149890665
Whitmor Organizer Gift Wrap, 1 ct – UPC: 38861710363
Whitmor Storage Bag Wreath, 1 ct – UPC: 38861710349
Added: March 14, 2023
Penny Items:
Additional Markdowns:
Holiday Plastics – $0.10

Hefty Tote 32 Qt, 1 ct – UPC: 25947716128
Housewares Deco Box Large, 1 ct – UPC: 875160029426
Housewares Deco Box Small, 1 ct – UPC: 875160029419
Sterilite 45 Gallon Tote Wheeled, 1 ct – UPC: 73149948663
Sterilite Bow Box Rod, 1 ct – UPC: 73149890665
Whitmor Organizer Gift Wrap, 1 ct – UPC: 38861710363
Whitmor Storage Bag Wreath, 1 ct – UPC: 38861710349

Red Dot Home – 90% off
Added: March 7, 2023
Penny Items:
DG Health A0291 Complete 50+ Tablets, 125 ct – UPC: 636652856612
Lids Kids Multi Gummy Bear, 60 ct – UPC: 669356443871
Lids Mens Multi Gummy Bear, 60 ct – UPC: 669356443857
Lids Womens Multi Gummy Bear, 60 ct – UPC: 669356443864
Rexall A0320 Cinnamon 1000mg-Capsule, 90 ct – UPC: 301220140164
RX Naturalist A1317 Sprulina Capsule, 30 ct – UPC: 30768308148
RX Naturalist Healthy Heart, 1200mg 60 ct – UPC: 30768319793
Super Bowl Party (2022)
Valentine Pop-Up Cards
Additional Markdowns:
Blue Star Toys – 90% off
BTS Hardware – 25% off
Fall/Winter Hardware – 25% off
Gray Dot Apparel – 50% off
Red Triangle Socks – 50% off
Winter Hardware – 25% off
February 2023 Penny Items:
Added: Feb. 28, 2023
Penny Items:
Bridgford Pepperoni Slice, 3 oz – UPC: 47500003629
Clover Valley Chips Classic, 5.5 oz – UPC: 57664009238
Clover Valley Chips Sour Cream & Onion Potato, 5.5 oz – UPC: 57664008712
DG Health Nutritional Shake Chocolate, 8 oz 6 ct – UPC: 683744963864
DG Health Nutritional Shake Vanilla, 8 oz 6 ct – UPC: 683744963871
DG Home Halogen 40W/29W Light Bulb – UPC: 430001112394
GE 100W-72W EEH Clear Halogen Light Bulb – UPC: 400036550652
GE 100W-72W Halogen Light Bulb – UPC: 43168907491
GE 150W SW Bulb Incandescent A21 Light Bulb – UPC: 43168900119
GE 38W Halgn Bulb Outdoor Flood Light – UPC: 400030319033
GE 3Wav Bulb GE 50100-150, 2 ct – UPC: 43168360487
GE 3Way Bulb GE 30-70-100, 2 ct – UPC: 43168360395
GE 40W Deco Bulb Bent Tip Clear Bulb, 4 ct – UPC: 43168762373
GE 40W Fan Bulb, 1 ct – UPC: 43168994200
GE 40W Fan Bulb Chandelier Bulb, 2 ct – UPC: 400030319781
GE 40W Globe Large Clear Bulb, 1 ct – UPC: 400030319378
GE 40W Globe Small Clear Bulb, 2 ct – UPC: 400030318876
GE 40W-29W EEH Clear Halogen Bulb, 2 ct – UPC: 43168630023
GE 40W-29W Halogen Bulb, 4 ct – UPC: 43168360234
GE 60W Candle Bulb, 2 ct – UPC: 400030321661
GE 60W Deco Bulb Bent Tip Clear Bulb, 4 ct – UPC: 43168762397
GE 60W-43W EEH Clear Halogen Bulb, 2 ct – UPC: 43168787963
GE 60W-43W Halogen Bulb, 4 ct – UPC: 43168907453
GE 75W-53W EEH Clear Halogen Bulb, 2 ct – UPC: 43168787970
GE 75W-53W Halogen Bulb, 4 ct – UPC: 43168702850
Hostess Valentine Baby Bundts, 8 ct – UPC: 888109250324
Hostess Valentine Ding Dong, 8 ct – UPC: 888109111380
Hydroxycut Berry Lemonade Energy Drink, 12 oz – UPC: 631656801750
Hydroxycut Orange Mango Energy Drink, 12 oz – UPC: 631656801774
Hydroxycut Watermelon Pomegranate Energy Drink, 12 oz – UPC: 631656801767
Maxwell House Iced Coffee Cream & Sugar, 11 oz – UPC: 43000083659
Maxwell House Iced Coffee Mocha, 11 oz – UPC: 43000087961
Pure Protein Fitness Bar Chocolate Salted Carmel, 1 ct – UPC: 749826548340
TrueLiving 3-way Bulb 50/100/150W, 2 ct – UPC: 430001354558
TrueLiving K0294 40W-29W Halogen SW Act – UPC: 430000938759
TrueLiving K0295 60W-43W Halogen SW, 4 ct – UPC: 430000938728
TrueLiving K0296 75W-53W Halogen SW, 4 ct – UPC: 430000938735
TrueLiving K0297 100W-72W Halogen SW, 4 ct – UPC: 430000938742
TrueLiving K0298 100W-72W Halogen SW, 2 ct – UPC: 430000136087
TrueLiving K0300 60W-43W Halogen SW, 2 ct – UPC: 430000488391
TrueLiving K0301 40W-29W Halogen SW, 2 ct – UPC: 43168926065
TrueLiving K0299 75W-53W Halogen SW, 2 ct – UPC: 430000215645
XP Boost Pre-Game Rainbow Candy, 6 oz – UPC: 631656858365
XP Boost Pre-Game Sour Pucker, 6 oz – UPC: 631656858358
Carryover Gift Sets with Purple Tags
Christmas Carryover Candy
Valentine Candy
Valentine Seasonal
Valentine Socks
Valentine Stationery/Party
Related >> Dollar General Coffee Creamer
Other Articles