Throwing a baby shower is a wonderful way to celebrate the coming of a new life and it doesn't have to be expensive!
There are plenty of cost-effective ways to make it unforgettable while still keeping tight on budget.
Here are some baby shower ideas that will save you money without sacrificing any of the fun!
Budget-Friendly Tips for Hosting a Memorable Baby Shower
When picking a venue, why not try using your own home or a local park or community center?
These options will cut down significantly on the price tag and will add a more personal touch to the party. As for invitations, digital cards are an excellent choice as they're eco-friendly, instant, and cost less than traditional paper ones.
Decorations help set the tone but don't need to break your wallet — allow yourself (or friends) to get creative with DIY projects like banners, crafts, and centerpieces for added impact.
Keeping budgets in mind, making it a potluck is ideal so guests can provide food. Plus don't forget the mom-to-be; make sure her favorite dish is part of the menu!
Finally, organizing baby shower games can be great entertainers while being budget-friendly – from 'guess the baby food' or 'baby bingo' this is your time to shine and show off your creative planning skills.
When giving out prizes for winners keep them cute but affordable such as candles, bath bombs, or even homemade baked goods.
In conclusion, remember that at its core a fantastic baby shower needs thoughtfulness and celebration rather than an expensive price tag in order for everyone involved – especially the mom-to-be – to feel special on this joyous occasion!
With just these simple tips you can manage hosting an amazing unforgettable event without blowing up your budget.
So take charge and let's throw this memorable cheap yet cheerful baby shower together!
Are you planning a baby shower on a budget?
Then going digital may be the perfect solution. You'll save money and be environmentally conscious without sacrificing style or fun!
Let's explore some tips to create an irresistible digital invite for your upcoming celebration.
1. Go Green, Digital invitations
Evite and WebBabyShower are two great options with numerous free, stylish designs that will match the theme of your baby shower perfectly.
Plus, you won't have to worry about writing down addresses and can send your invitations via email with just a few clicks – plus, track who has seen your invite or require gentle reminders.
Paperless Post is another great option with personalizable designs like Folk Tails, Confection, and the ability to upload custom images that could make a perfect digital invitation even more special.
And better still, they offer flexibility in creating multiple guest lists so you can send out different invitations specific to certain groups.
So go ahead: cut down costs while enjoying the convenience of sending out digital invites to get your guests excited for the event ahead! Happy planning!
2. FREE locations for the event
There's no need to worry since there are plenty of affordable and even free locations for the event! Let's take a look at some of the money-saving options.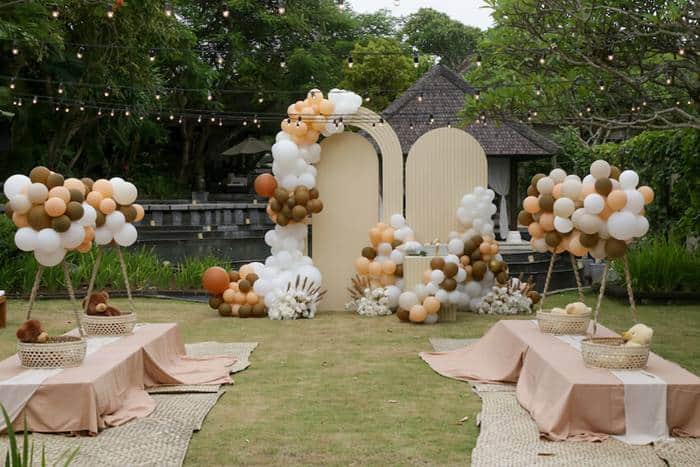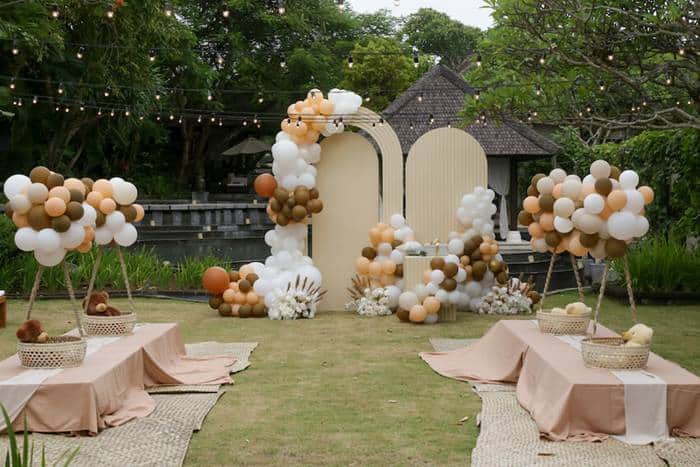 Firstly, why not consider having the party in your own home – or someone else's?
This is a great way to keep costs down while creating an intimate setting for the special occasion.
Plus, you won't have to stress about transporting decorations or food since everything will already be there!
If you need more space than at home, consider asking friends or family members if they have room. Chances are they'd love to be part of making the mom-to-be's day special!
What about churches and other organizations?
These often provide meeting rooms for members at discounted rates; great potential spots for a baby shower.
Then there's always outdoors – such as local parks – providing a wonderful backdrop that may even be free. However, make sure to check out any fees with city hall before you plan something there.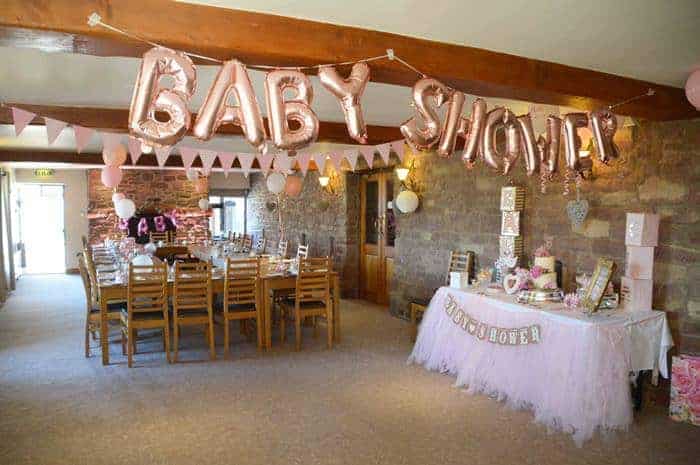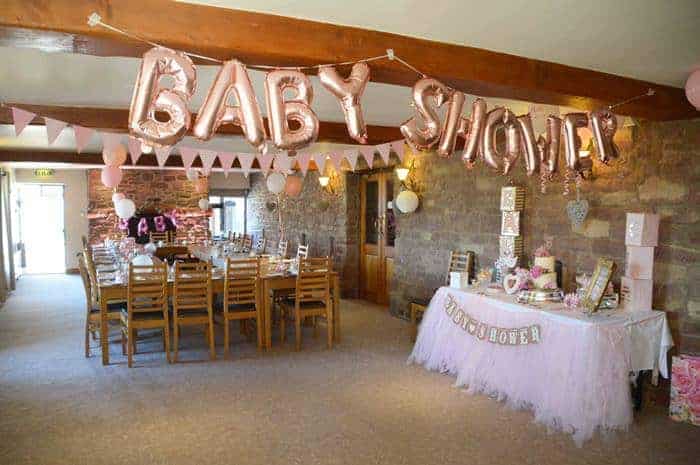 Additionally, community centers, YMCAs, and some non-profit organizations could also offer rooms for rent at reasonable prices – perfect if you're looking for somewhere designed specifically for gatherings.
Finally, don't overlook small businesses like studios and cafés; many rent-out spaces which could give your event a unique feel.
To summarize, it doesn't need to cost an arm and leg to find a suitable venue for your baby shower planning; with all these possible options you can efficiently allocate your resources elsewhere for an unforgettable celebration.
After all – the most important thing is celebrating this joyous new arrival with lots of love!
3. Catering
Are you ready to wow your guests with a memorable feast?
Here's how!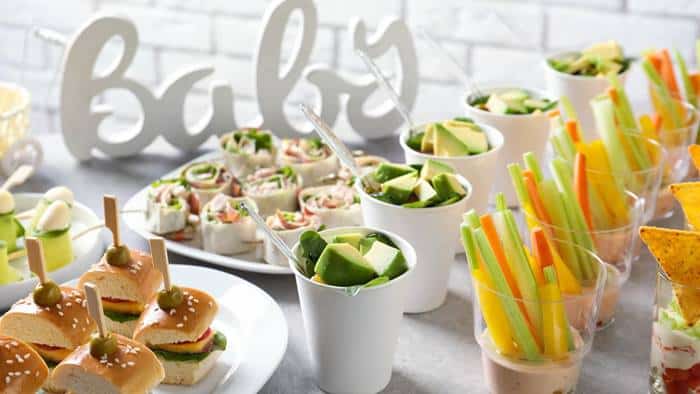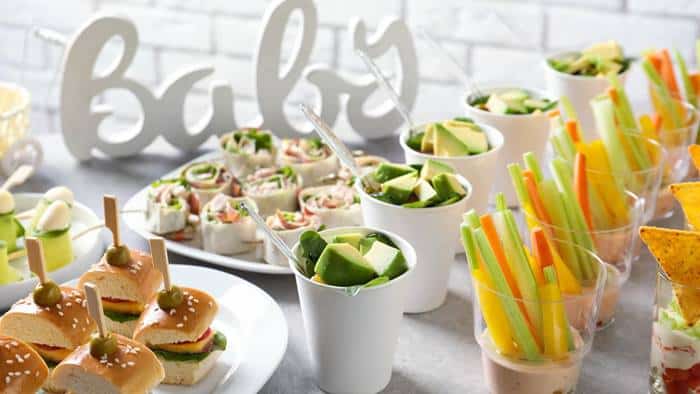 Start with tasty finger foods like assorted sandwiches, vibrant vegetable trays, and uniquely decorated pasta salad cups.
For dessert, ditch the traditional cake and opt for cupcakes that can be adorned with pretty toppers and wrappers.
Plus they're portioned perfectly so no crumbs will go to waste! Or consider creating a fun dessert bar as a surprise – think an array of cookies, lots of ice cream flavors plus some colorful toppings.
If you know someone with great baking skills, why not get them to make a beautiful cake?
It'll make for an unforgettable memory and you won't need to buy one. If it's more casual dining you prefer, host a potluck – your friends and family will love contributing their favorite dishes!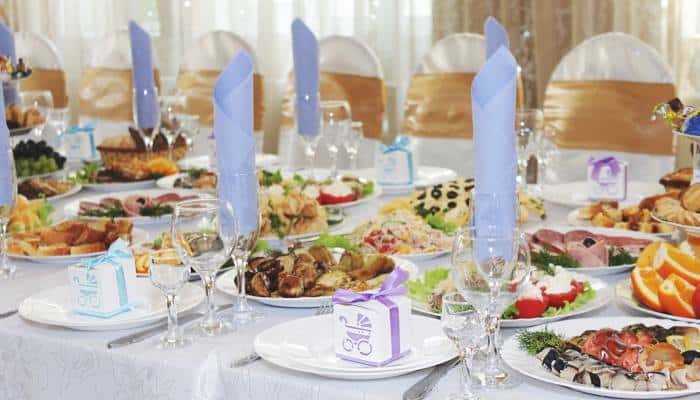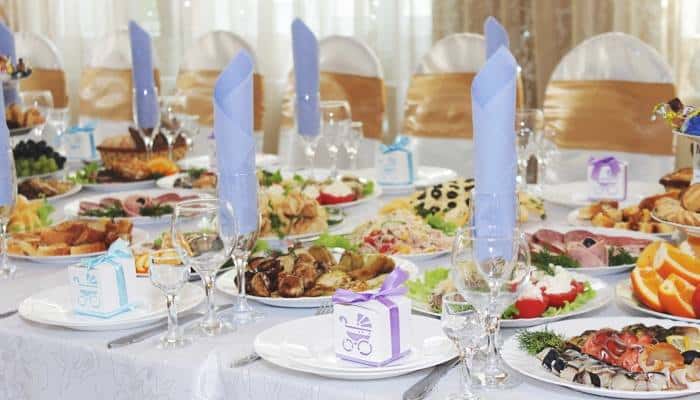 Don't forget the power of bulk shopping either – Costco has great deals on cost-friendly food items that everyone can enjoy.
With a creative touch, some planning ahead, and homemade dishes in place of pricey catering services, hosting an amazing baby shower on a budget is totally doable and sure to bring warmth and joy to the Mom-to-be as she anticipates her new arrival!
4 . Decoration
Hosting an unforgettable baby shower doesn't have to cost you a fortune. All it takes is a bit of creativity and resourcefulness to achieve a delightful and budget-friendly event!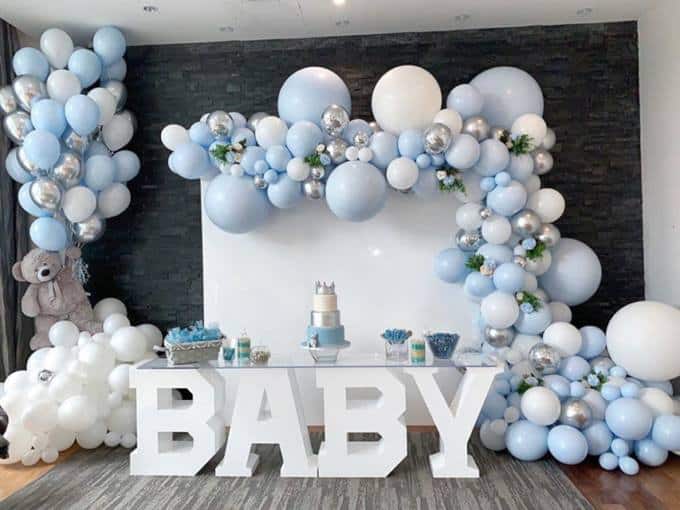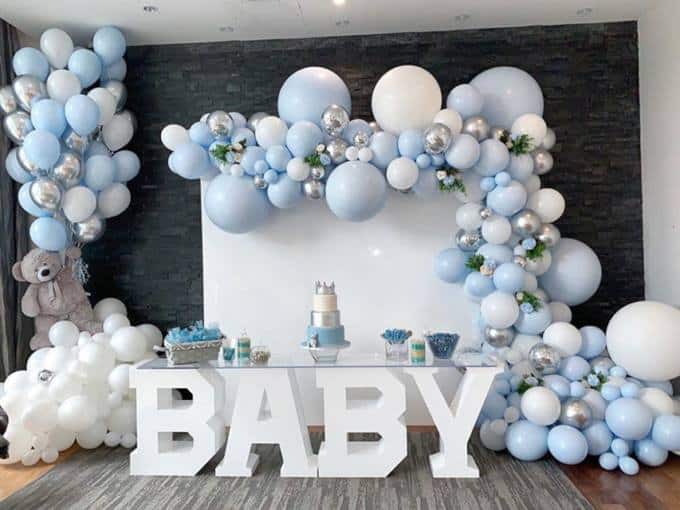 Here are some savvy and chic ways to decorate your baby shower without breaking the bank:
Choose a theme that already has items in your home, such as an Easter bunny collection. If not, you can always borrow from friends for free!
Spending just a couple of dollars at Dollar Tree or other dollar stores can get you festive streamers, balloons, tablecloths, and banners without spending too much. You can even shop online for more convenience!
Baby items like onesies, receiving blankets, toys, books, diaper cakes, or blocks make perfect decorations that can double as gifts for the mom-to-be too!
Get crafty with your own floral centerpieces, table displays, and food table embellishments to add a personal touch while keeping costs low. Onesies garlands and washcloth bouquets make for unique touches too!
Visit Etsy or similar websites to download affordable printable decorations such as banners, cupcake toppers, and napkin rings – all without spending an arm and leg on them!
Utilize affordable options like balloons or paper honeycombs at the party venue; their visual impact won't fail to impress guests without straining your wallet.
Favors & Gifts as Centerpieces:
Utilize favors you planned on handing out as centerpieces – it's two in one solution that saves money plus looks invitingly beautiful! You can also turn presents into showstopping centerpieces with nifty bow placements around them instead of wrapping them up separately again later on!
Elevate basic decorations by placing them on stands or wrapped cereal boxes; this trick will help create dimension in the décor easily while keeping expenses down dramatically!
Toys & Books As Decorations:
What better than to use toys & books as décor? Not only will they look adorable but they'll be easy on budget too – scatter around shelves appositely placed for grandeur effect or use them alongside ribbon wreaths as rustic hanging beautifications above furniture pieces elegantly enough for exuding thoughtful gracefulness at its best!
And .. last but not least .. Look no further than your home for inspiration – candles, flowers, vases, baskets etcetera – any thereof found lying idly in forgotten nooks could work wonders once artfully rearranged.
Think outside the box when it comes to reusing stuff lying around! At the heart of throwing an economical baby shower lies creativity; these tips should help you host an amazing celebration within budget with ease!
5. Games
Hosting a baby shower doesn't need to be expensive and still can be full of fun and laughter. Here are some unique, budget-friendly games that will help you create a lasting memory for your loved ones.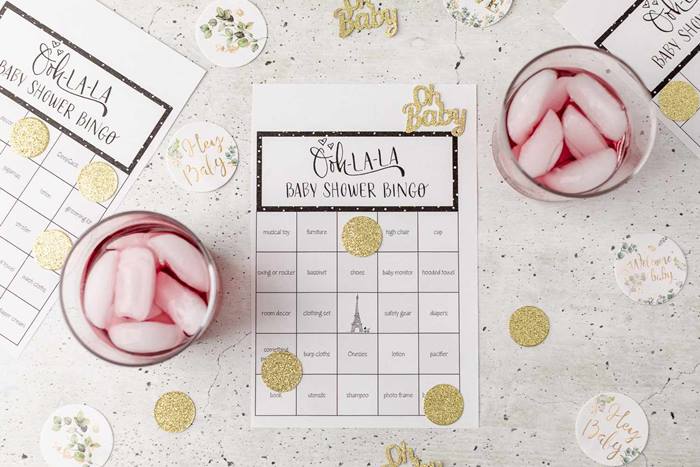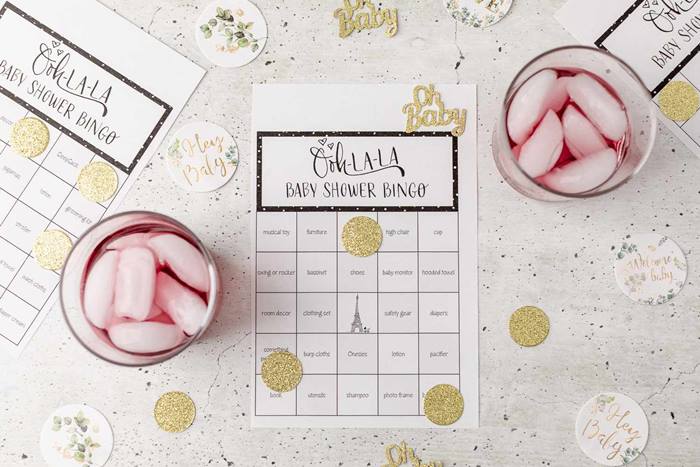 With the help of the internet, you can find plenty of free printable games such as Baby Shower Bingo, Baby Animals Match, or even Baby Shower Karaoke! Just print them out and let the excitement begin!
Get clothespins for each guest and have them put their pins on their clothing upon arrival. When someone says "baby", anyone who hears it is allowed to take one clothespin from that person. Whoever has the most pin wins at the end!
Divide your guests into groups and have them blow up balloons that they will place under their shirts. The team that pops all their balloons first wins!
Give each guest a disposable diaper along with pens so they can write down messages for the new mother-to-be.
These messages can be funny, inspirational, or simply sweet notes of encouragement -a lovely keepsake for any mom-to-be.
Print a calendar page with dates corresponding to the expected date of birth month. Get everyone to guess what day the baby is going to arrive–the closest guess gets an award after the baby has arrived safely.
Challenge your guests' creative thinking as they come up with baby name ideas using letters from either parent's names–the one with the most names wins this game!
Prepare trivia questions related to the expectant mother beforehand—ask these questions during her shower party and whoever gets the most answers correct deserves an award.
Guess the Size of Mom's Belly:
Get hold of yarns, ribbons, or string—let everyone make guesses about the circumference of the expectant mother's belly–the closest guesstimate wins this game!.
Collect baby pictures beforehand from each guest & arrange them on display during the shower party—ask guests to identify who looks whom in past days–guests are sure to break the ice between themselves if not everybody already knows each other well.
Pacifier Scavenger Hunt: Hide pacifiers around the host area & get every guest ready for the hunt—the winner gets a prize!
Ask everyone present at the shower party to bring newspaper clippings, photos, or notes related to parents –put these items inside a time capsule intended exclusively for the future of newborn kids!
Guests will laugh out loud filling in blanks on paper without comprehending the context!! The funniest story voted by others gets an award!
List down some unique facts specifically referring to individual guests & allow others to try guessing the associated name –this game creates an opportunity to mingle together & understand each other better than ever before…
Remember- the goal here celebrate the little one's impending arrival while making long treasured memories!!! Selecting the appropriate pertaining group meant crafting an enjoyable atmosphere!!!
5. Game Prizes:
Planning a baby shower on a budget doesn't have to mean sacrificing special prizes for your guests.
With some smart shopping and creative thinking, you can make sure everyone goes home with a memorable gift they'll truly appreciate.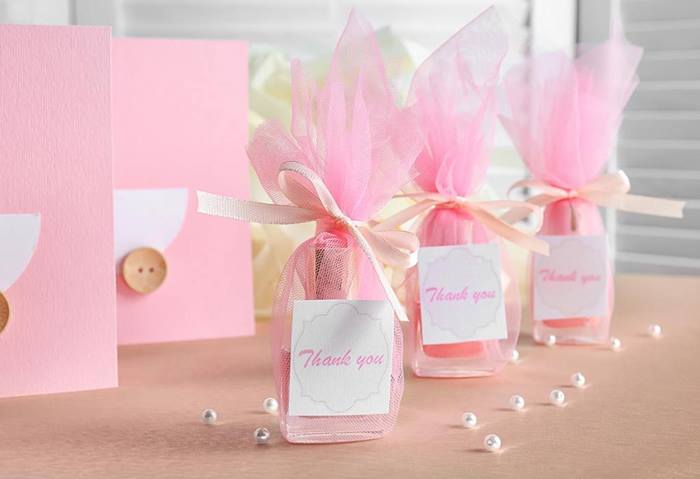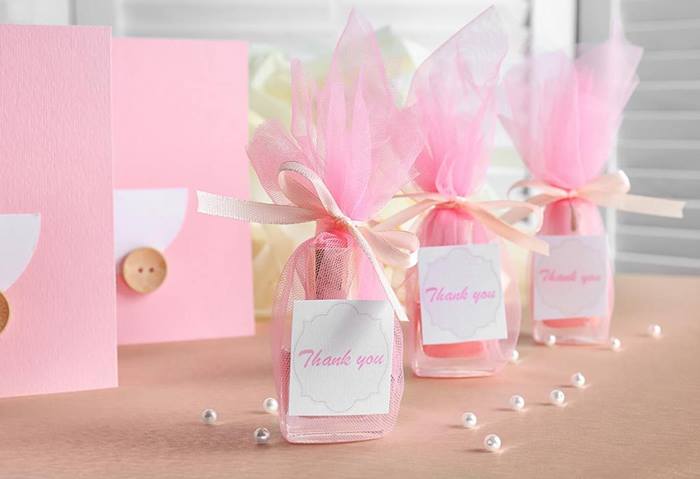 -Miniature bottles of champagne or tequila paired with fun cocktail accessories are an exciting surprise that won't leave you out of pocket.
-Or opt for pampering treats such as scented candles or luxurious lotions that show your guests how much you care.
-Coffee lovers can be rewarded with practical presents like mugs or reusable cups, with the added bonus of a Starbucks gift card tucked inside! If you opt for this route, small denomination cards from stores such as Target, Walmart, or Amazon are also great choices.
-Beauty enthusiasts will love spa kits, nail polish sets, or trendy cosmetic bags too. For those who enjoy thoughtful and practical items, there are classic finds like notebooks and photo frames available at affordable prices either online – check dollar stores – or at major retailers such as TJ Maxx, Marshalls, Ross, and Walmart (who often have clearance sections). Old Navy and H&M also offer surprisingly chic knick-knacks for unbeatable prices if you want to inject some fashionable flair into your selection of gifts.
-And don't forget second-hand stores – they hide all sorts of wonderful treasures like utensils and pitchers – perfect for any additional supplies needed! Have fun shopping for the ideal baby shower prizes; even the smallest gesture will add to the celebratory atmosphere!
TIPS
The time you decide to host your baby shower can have a major impact on your costs, especially with regard to food and drinks.
Generally, people tend to expect substantial meals when attending events that overlap with mealtimes.
Choosing to hold your party during lunch or dinner hours may unintentionally lead your guests to expect full-course meals. To avoid that, consider scheduling the baby shower away from standard mealtimes.
Try late morning, mid-afternoon, or evening instead. By having the party during these "off" times, you can offer light snacks and refreshments yet still leave everyone satisfied.
For example, let's say you opt for an afternoon event around 1:00 or 2:00 PM. Most of your guests would've already had lunch by then so providing some basic snacks and treats is more than suitable – not to mention affordable.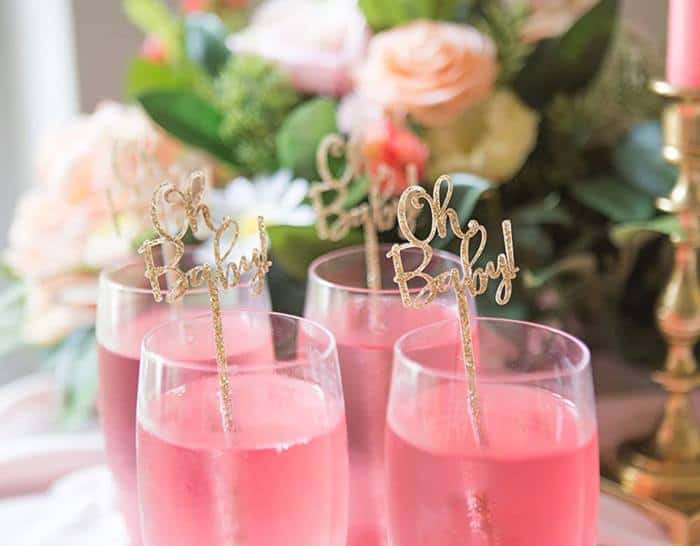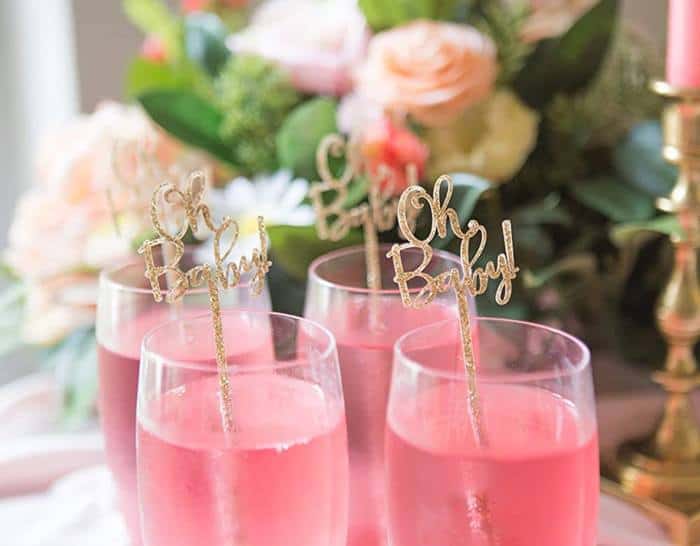 Don't let drinks get the better of your budget at your baby shower! While alcoholic beverages may seem alluring, for a baby shower it's best to opt for alcohol-free options.
A delicious and cost-effective punch or lemonade is a great option that won't exclude the guest of honor – the soon-to-be mommy.
Yet if you're hosting a Sip-and-See celebration, nonalcoholic beverages can still add festivity to the party. Gourmet teas or hot chocolates are excellent choices when it comes to cooler weather (or any time of year).
This way, you can provide thoughtful refreshments that are wallet-friendly too! Here's to smart choices and bigger smiles all around!
-Don't think that you have to undertake all the tasks yourself.
Ask friends to help out and delegate responsibilities like decorations or drinks for a more collective approach that will make the process easier on your end.
-Sticking to a checklist is necessary when managing expenses so take note of what needs to be paid and where you might be able to save. For instance, if any of your friends already own serving platters then there's no need for further purchases.
-When searching for exciting and affordable ideas for decorations, food, or other surprises why not use Pinterest as a source? This way you can find the perfect balance between frugality and festivity! The point is that guests want nothing more than to celebrate the expecting mom so why go overboard if there is no need?
-Do-It-Yourself elements or homemade snacks won't put a damper on anyone's mood – all they care about is happy news.
Conclusion
Plan ahead thinking of ways how your savings can go towards creating an extra special experience. So make sure mama-to-be gets her due with best wishes and lots of love! With these helpful tips, your party planning should go off without a hitch; happy planning!
Other Articles