Don't let another flat tire ruin your day – there are plenty of places where you can get free air for your tires anytime!
From experienced road trippers to those just wanting to keep their tires in top condition, everyone can benefit from these 22 incredible free tire air locations across the US. Save time and money with this convenient and cost-free service – start pumping up those wheels today!
1. KROGER:
Looking for a way to save on air for your tires?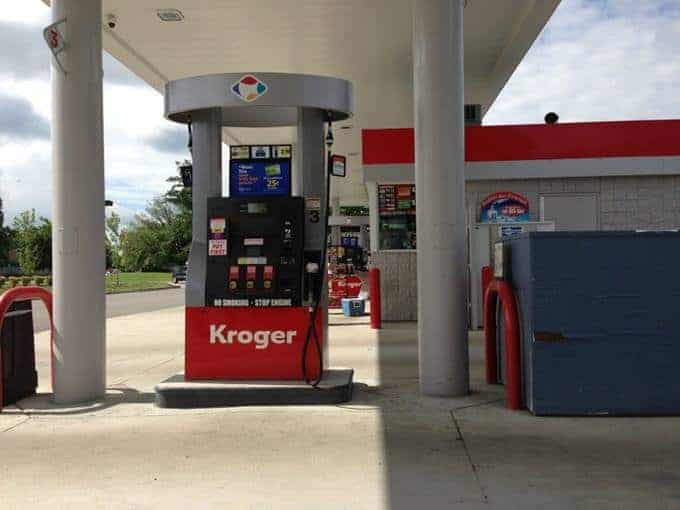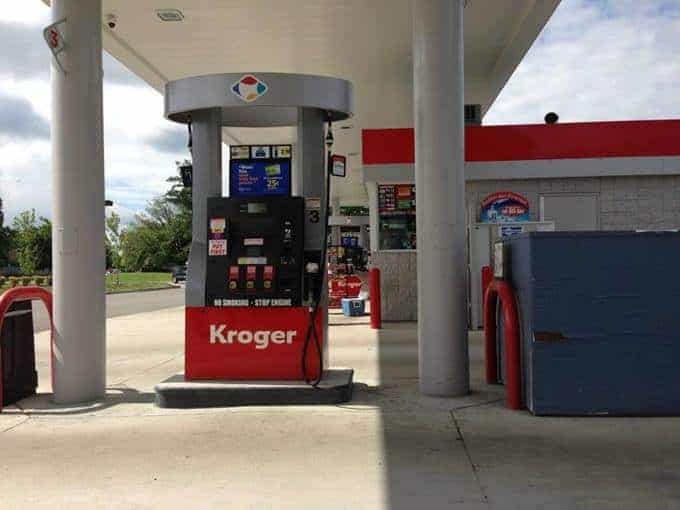 Kroger has you covered! With over 1,200 fuel locations across 37 states, Kroger is your go-to destination not just for groceries but also an added convenience – free air.
Whether you're shopping with Kroger or not, you can access this perk at any of the company's stores including Ralphs, Fred Meyer, Harris Teeter, and King Soopers.
To make it even easier to find the closest fuel station with free air near you, simply use the store locator tool on the Kroger website or download their mobile app so you can access their services on the go wherever you go.
From Alabama to Virginia and many states in between, drive around with confidence knowing that Kroger has got your back when it comes to pumping up your tires.
So next time don't hesitate – head to your local Kroger and get pumped up!
2. Costco
Keep your car rolling with a stop at the Costco Tire Center!
With over 800 locations across 46 states, you can drive up to any of these convenient service centers to get your tires inflated – for free!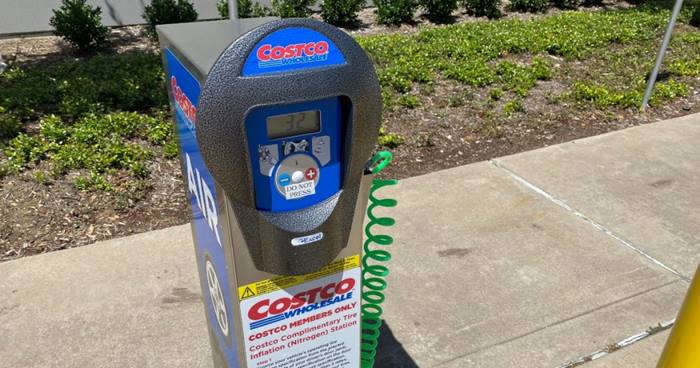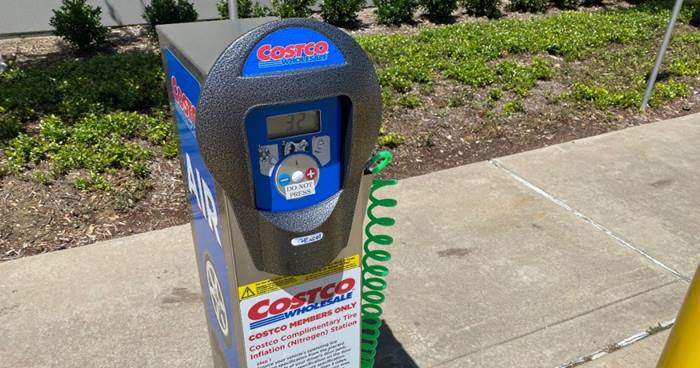 Better yet, Costco offers nitrogen refills instead of compressed air, meaning your tires will stay inflated longer and give you better fuel economy in the long run.
Plus, if you become a member of the Costco family, you'll enjoy even greater savings with their installation package, which could be up to $18.99 per tire. In addition to free air replenishment and exclusive discounts, members have access to flat tire repairs, rotations, and pressure checks.
So what are you waiting for?
Make your next tire refill a Costco trip and take advantage of all their great perks while you're at it!
3. Discount Tire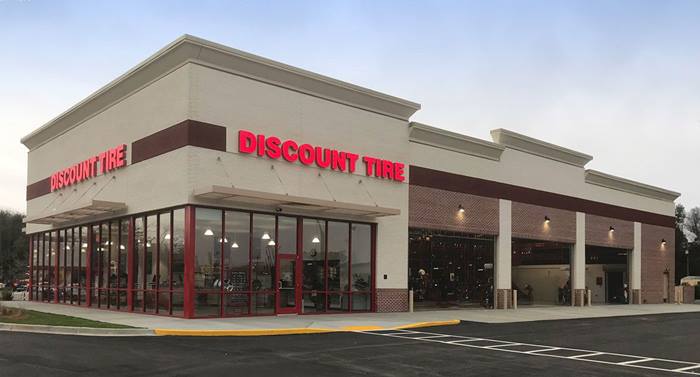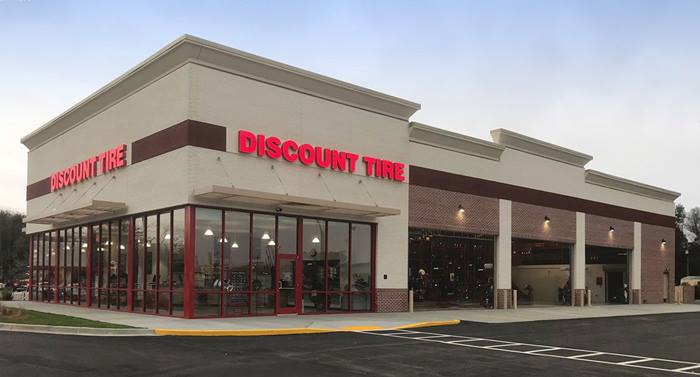 No matter where you are in the US, Discount Tire has your back when it comes to your tire needs.
With over 1,000 locations across 35 states and over 1000 service bays, they offer a "Free Air Check" sign for anyone who pulls up – customers or not!
Their friendly staff will check your tires for air pressure, damage, and tread wear, and ensure proper levels – all absolutely free of charge.
Plus, in California, the company can be found operating under the name "America's Tires" giving them coast-to-coast coverage. On top of these services, they also provide puncture repair at no cost; so if you have a nail or screw stuck in your tire's tread, Discount Tire will take it out and patch up the area without hurting your wallet.
Weekends tend to be busy times so if possible make sure to plan ahead but rest assured that the team there has got you covered either way.
When it comes time to hit the road with peace of mind – look no further than Discount Tire!
With their commitment to helping keep drivers safe on our roads, they'll make sure your tires look and feel as good as new.
4. QuikTrip
Searching for a gas station that provides not only quality refreshments but also free air for your tires?
Look no further than QuikTrip!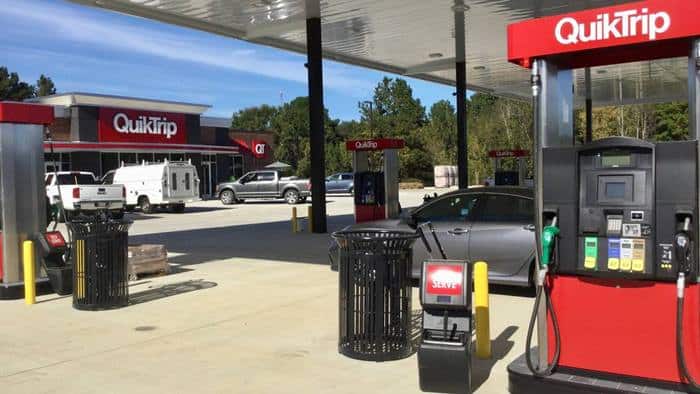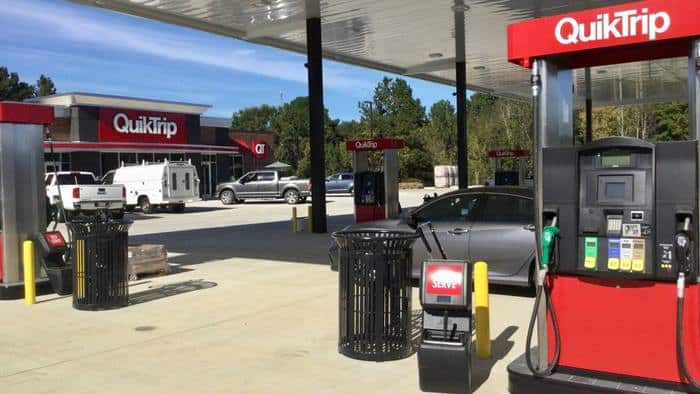 Boasting 950 locations across 16 states, including Arizona, Georgia, Iowa, Kansas, Missouri, and more, you can count on QuikTrip to provide the ultimate customer service experience and convenience.
At QuikTrip you get access to an extensive selection of both Pepsi and Coke in their fountain drinks PLUS free air for your tires – all at no additional cost!
That way you can take care of refueling your car with quality fuel, grab a snack on the go and even inflate your tires – secure in the knowledge they are safely taken care of.
So if you're looking for a reliable pitstop where you know your car is in good hands and that won't break the bank – make sure to drop by a QuikTrip location near you!
With over 800 locations scattered throughout the Mid-East states there's bound to be one closely located to make your life easier.
5. Sheetz
Are you ready to explore the most convenient road trip experience?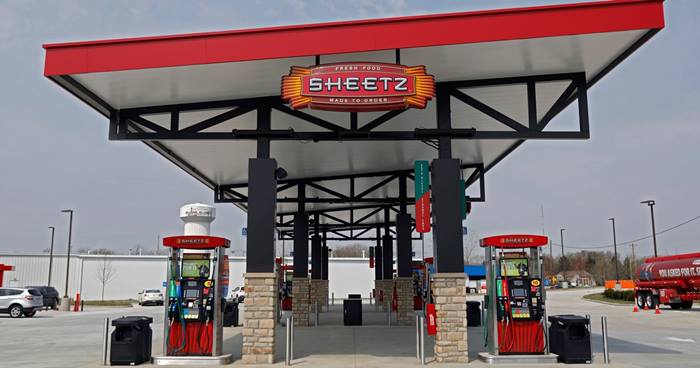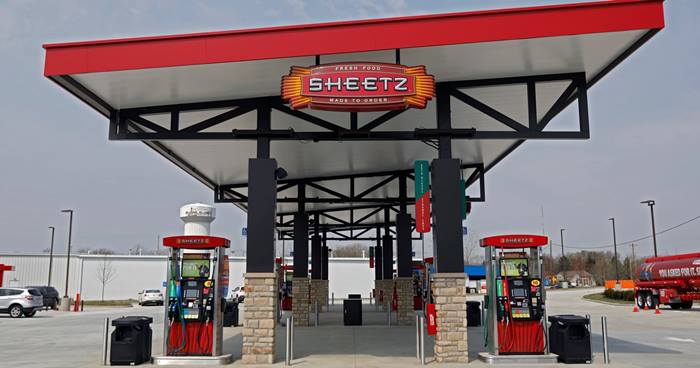 Take a visit to one of the six states blessed with Sheetz gas station outlets and hit the road! Not only do these 600+ locations across Pennsylvania, Maryland, Ohio, Virginia, West Virginia, and North Carolina offer fuel for your car but also delectable snacks, drinks, and even free air for tires.
Sheetz is an American convenience store chain that caters comfortably to over 580 locations spread throughout the Mid-Atlantic, Appalachia, Upper South, and Ohio.
Giving travelers precisely what they need when they need it – with no compromise on quality or taste!
So hop into your vehicle next time you're looking for a pit stop and head over to Sheetz for a reliable refueling experience with sweet goodies alongside free air for your tires – all at absolutely no extra cost!
6. Sam's Club
Are you a Sam's Club member?
If so, you're in luck – because our tire maintenance services are totally free at over 600 locations across the US and Puerto Rico.
From checking your tire's air pressure to assessing tread depth, the helpful staff at any of our stores can have your tires up to code in no time.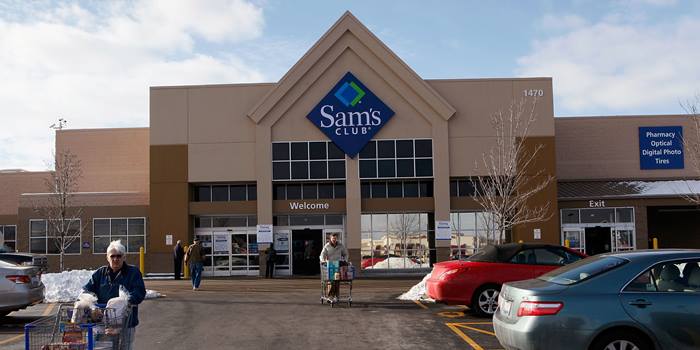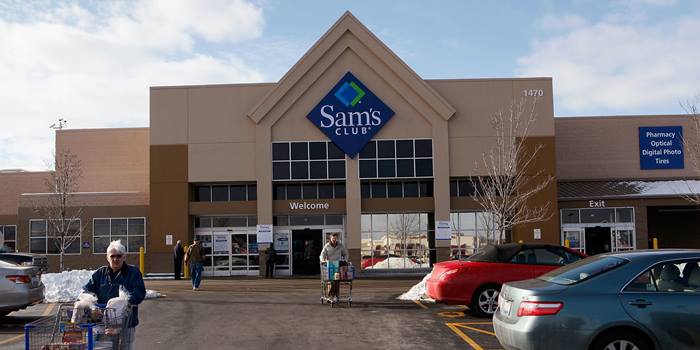 Even if you don't need new tires, taking advantage of this membership perk is a great way to make sure that your wheels are reliable and ready for the road.
Luckily, it's easy to become a Sam's Club member: simply check out their website for more information on how to sign up.
That way, not only can you stock up on all the best products with store hacks and shopping tips – but also have access to complimentary automotive services including tire maintenance!
At Sam's Club Tire & Battery, we want you driving safe and sound on the road – so don't miss out on this wonderful opportunity and head straight to your nearest location soon!
7. Wawa
At Wawa, it's not just about the hoagies, coffee, and plethora of other goodies–the gas station and convenience store also offer a convenient tire air service for anyone and everyone!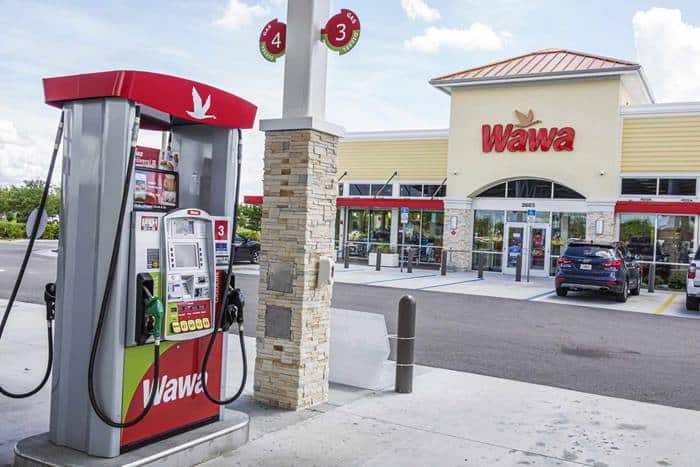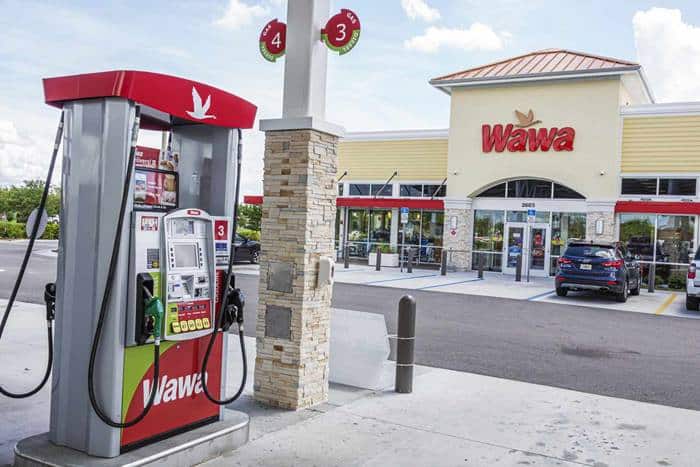 With over 800 locations in Pennsylvania, New Jersey, Delaware, Maryland, Virginia, Washington D.C., and Florida and continuing to expand even further out east, Wawa has become a go-to spot for both travelers and locals alike.
Whether you're on vacation or simply need a quick tire top-up while you're running errands, all you have to do is stop by any Wawa location; they'll be happy to provide free air so that your tires are good to go.
So why not pull in when you're near one – not only can you get something delicious from their on-site food selection but your vehicle will benefit from the complimentary tire check-up too!
8. QuickCheck
Ready to make your life easier?
Discover QuickChek – the one-stop destination for fuel, food, and free air pump services in New York and New Jersey.
There are over 150 locations, where you can get not just gas but also enjoy delicious snacks and even EV charging stations.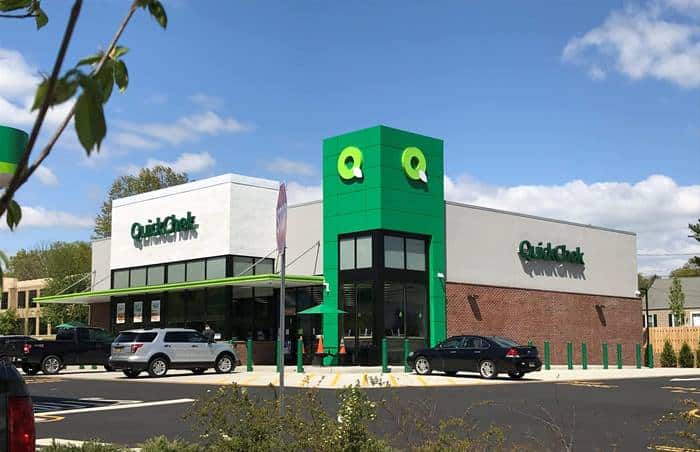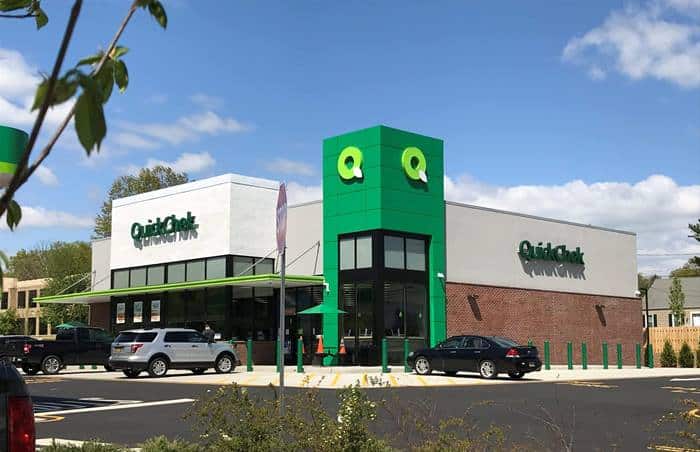 Best of all?
The convenience is taken up a notch with their amazing free air pump service.
That's right – all of their locations have tire pumps you can use for no cost!
Just visit their website to find the closest QuickChek location near you using their store locator and start taking advantage of all the benefits QuickChek has to offer.
So, next time you're in need of fuel, food, or a tire pressure boost – remember QuickChek for your one-stop convenience solution!
9. Kum & Go
Looking for a reliable and affordable gas station that offers more than just gasoline?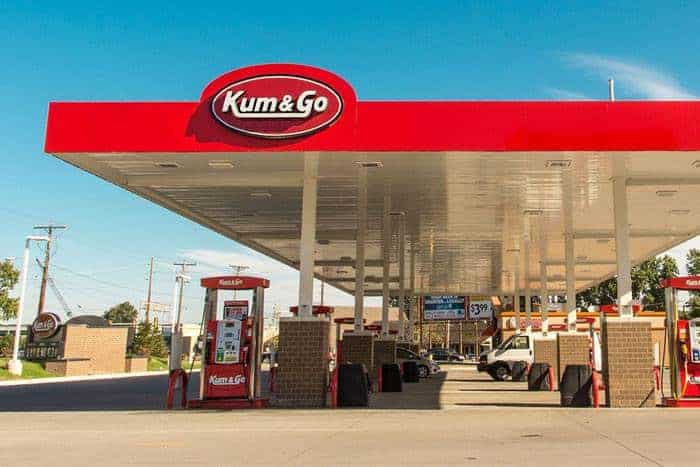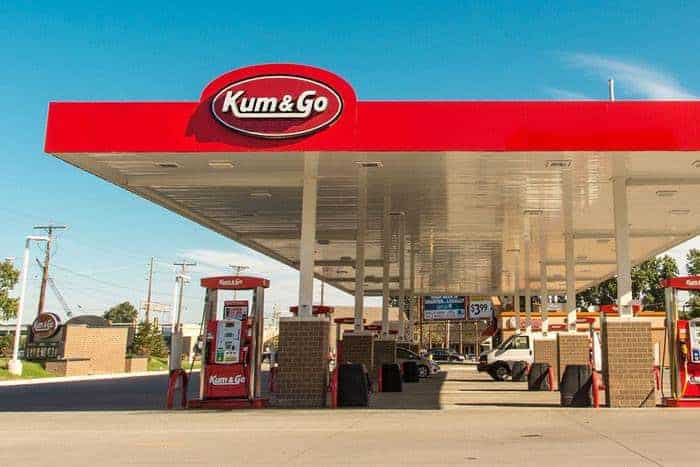 Check out Kum & Go! With over 400 locations in 11 states, including Colorado, Iowa, Oklahoma, North and South Dakota, Nebraska, Minnesota, Missouri, Montana, and Wyoming you'll never have to worry about getting stranded.
Plus, their free air pump service means no worrying about having enough quarters on hand.
The best part is that Kum & Go makes it even easier to find all the essentials with their convenient app–so you can spend less time searching for a location and more time road-tripping!
So next time you're out and about make sure to pay them a visit; you won't regret it discovering why Kum & Go has become so popular with both locals and travelers alike.
10. Gate
Enjoy a hassle-free experience and tire-inflation service every time you stop at GATE gas stations across the Southeast.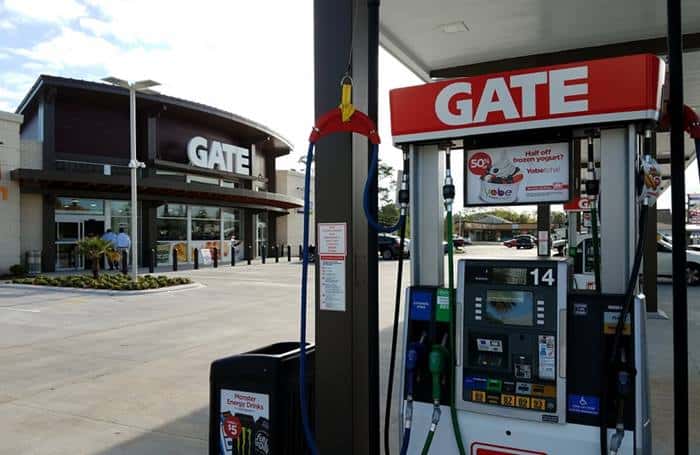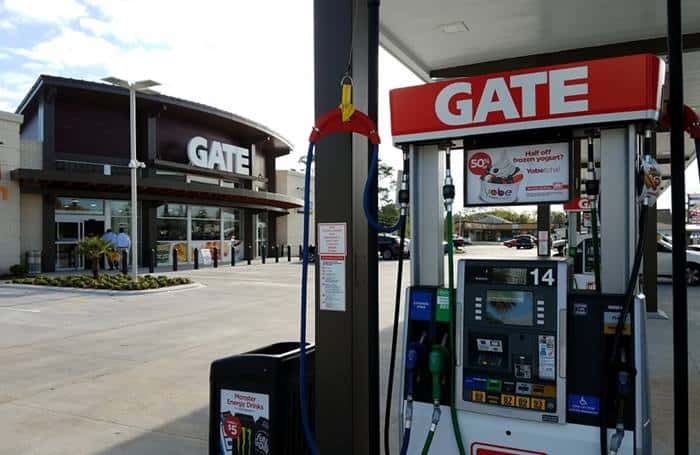 For nearly six decades, GATE has been a trusted name in the industry, providing excellent value to customers and over 200 locations in Florida, Georgia, North Carolina, and South Carolina.
With free air pump services for your car tires available at all of their locations, you can get back on the road with properly inflated tires—without having to carry spare change!
So if you're traveling through any of these four states, look no further than GATE for convenient access and reliable service.
11. Hy-Vee
Whether you're grocery shopping in the Midwest or filling up your gas tank, Hy-Vee is there to make your life easier!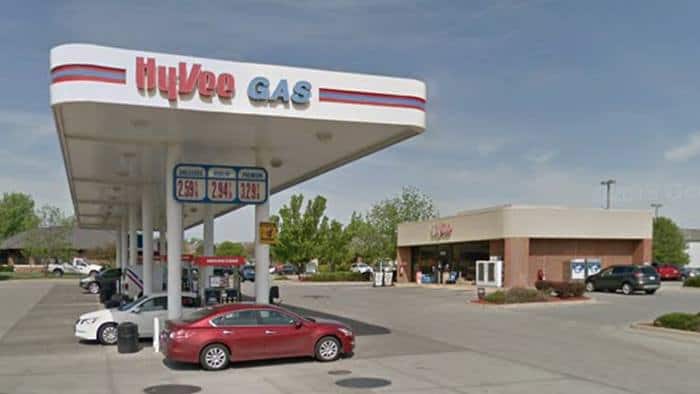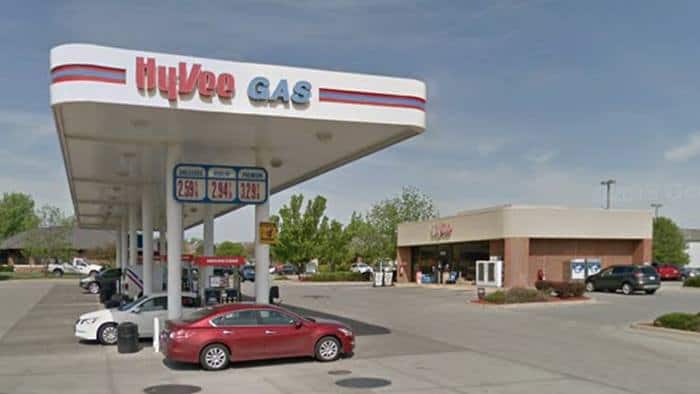 Hy-Vee is one of the most popular supermarket chains across several states like Iowa, Illinois, Kansas, Minnesota, Missouri, Nebraska, South Dakota, and Wisconsin.
With over 280 locations and counting, Hy-Vee offers an extensive selection of grocery items combined with invaluable departments such as freshly prepared food options, integrated Starbucks cafes, bakery cakes, and catering services.
Plus you can find gift cards and medicine too. But it doesn't end there; many of their locations have adjoining gas stations with a unique perk – free tire air service for all customers!
So don't miss out on this opportunity; next time you're in the area swing by a Hy-Vee location to take advantage of all they have to offer and make your day simpler.
12. Royal Farms
When you're on the go, make sure to keep an eye out for Royal Farms gas stations in the east coast region.
With locations in Maryland, Delaware, Virginia, Pennsylvania, New Jersey, and West Virginia – they offer much more than just fuel and food.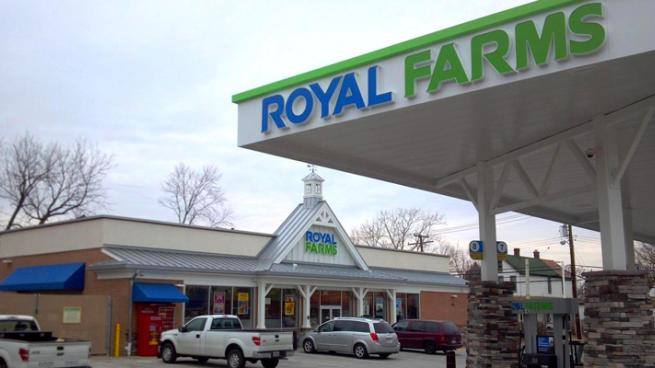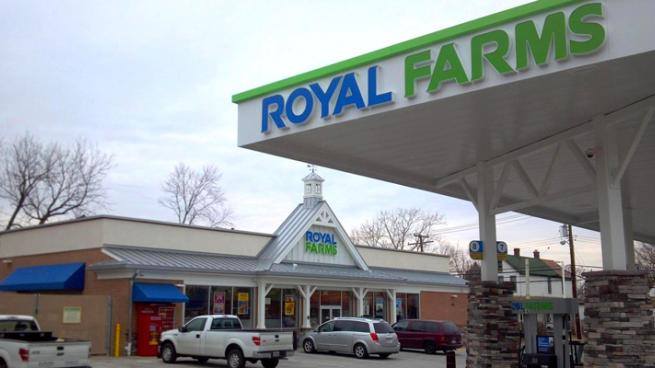 You can also snag gift cards and enjoy a rewards program. But their most impressive perk?
Tire air – entirely free of charge! Just stop by any of their easily accessible 200+ locations to fill up your tank and keep you safe with tire air to get you rolling!
Next time you're in these states, be sure to take advantage of Royal Farms' awesome services!
13. Rutters
Enjoy a plethora of services and products offered by Rutters, the convenience store chain with over 80 locations across Pennsylvania, Central Maryland, and the Eastern Panhandle of West Virginia!
Apart from beverages, sandwiches, salads, and hot food they also provide alcohol and video gaming.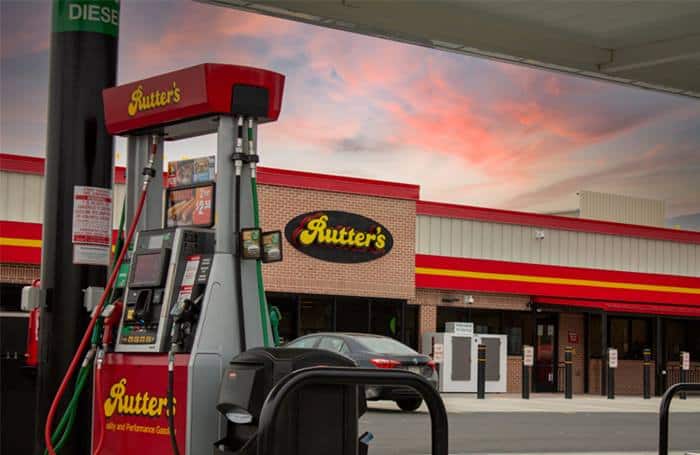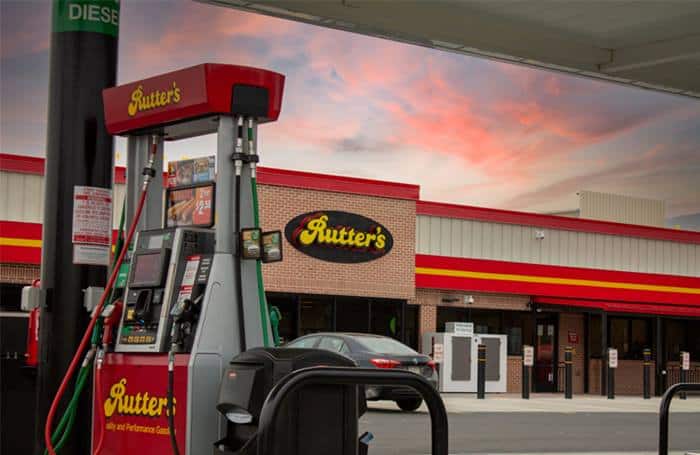 What's more?
You can save up to 3 cents per gallon on gas with a free Rutters Reward card. Not only that, but you'll be able to get a $3 bundle for a standard-size Reese & XL Fountain Beverage as well.
If you decide to become part of the VIP club, you don't need to even swipe the card to redeem your fuel rewards at the pump- simply download their app from either Google Play or App Store and enjoy easy access and all other rewards Rutters has in store!
So why wait? Stop by any one of their locations when you're in the area for great deals on refueling your car, plus delicious food bites – all accompanied by free tire air courtesy of Rutters Reward Card!
14. Big O Tires
Save yourself time and stress on the road by checking in at Big O Tires for a free tire pressure check.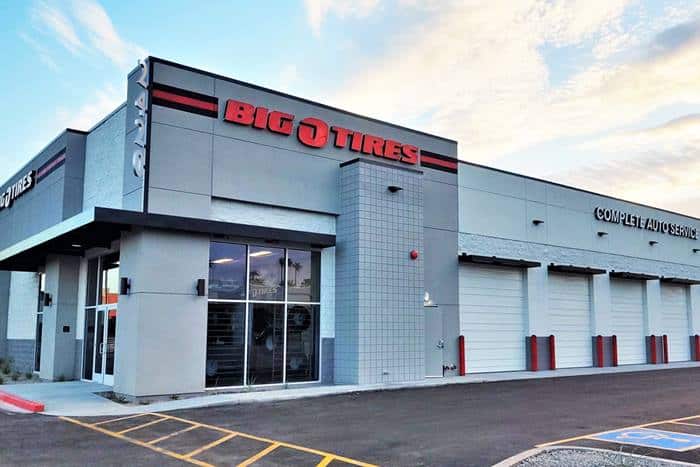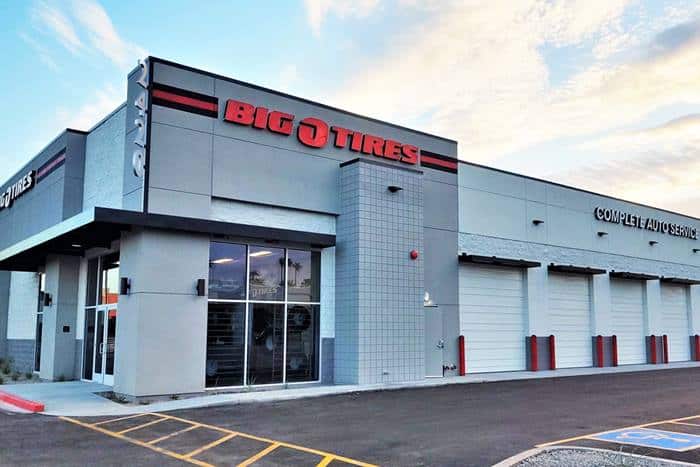 As one of the largest tire dealers in the country, with over 450 stores located across 25 states, Big O Tires has your back when it comes to keeping your vehicle fit and safe.
Their commitment to customer safety and satisfaction means that you can visit no matter what type of service you're looking for – from roadside assistance packages to tire protection plans – their friendly staff is here to help.
To top it off, all locations are open from 8 a.m. to 6 p.m., making it easy for you to find a convenient time for inspection and adjustments as needed – so don't hesitate to jump on it!
With Big O Tires, you'll get superior service backed by their promise of customer satisfaction so grab your keys, swing by any store near you, and enjoy your drive with peace of mind knowing that your tires are always taken care of.
15. Goodyear
If you're looking for dependable tire service, look no further than Goodyear, a global leader in tire design and manufacturing.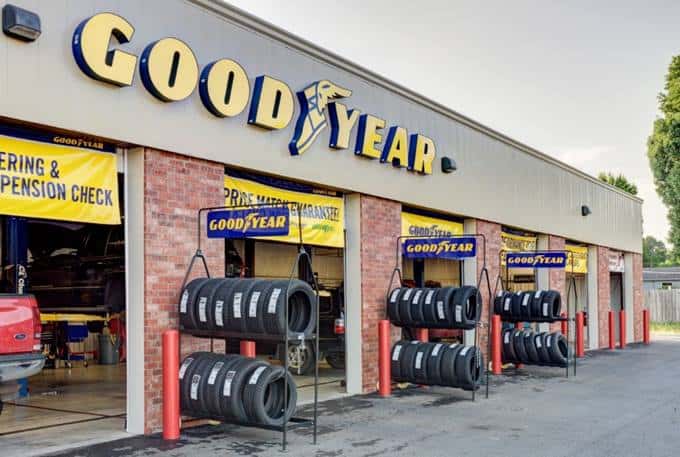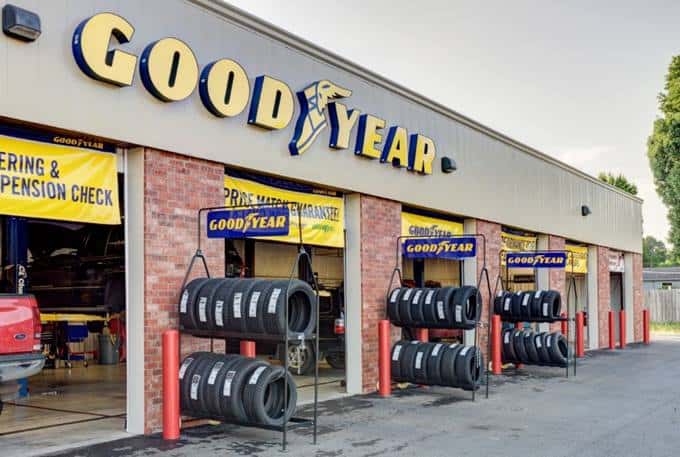 The company's chain of Auto Service Centers located throughout the US offers motorists an invaluable complimentary service – pressure checks on all tires.
At Goodyear Auto Service Center, their trained technicians will more than just check your tire pressure – they'll inspect them for damage due to improper inflation and make any adjustments necessary so that you can hit the road with confidence.
With over 2,000 centers scattered across the nation, wherever you are, you won't have far to go for free tire inspections and air checks.
So don't delay – trust your precious wheels to Goodyear – it's not just about keeping up appearances but ensuring safety on the roads too.
16. Firestone
Keep your ride running at peak performance with Firestone Complete Auto Care!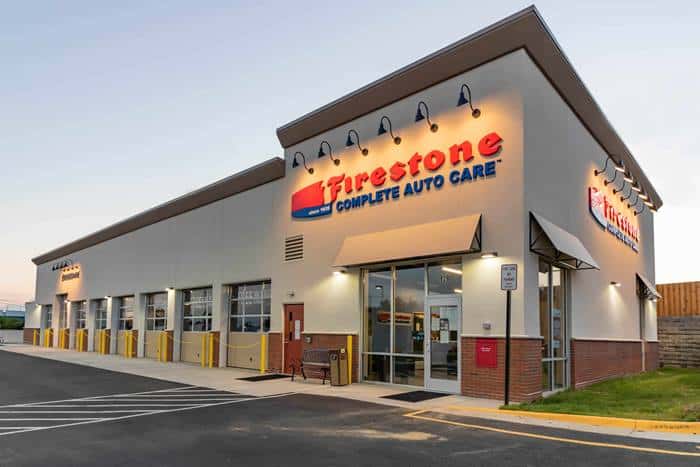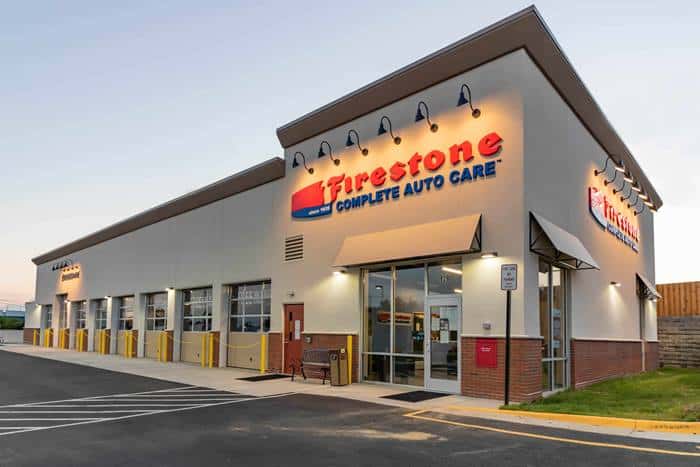 With over 1,700 locations spread across 23 states, Firestone provides car enthusiasts and families alike with a comprehensive range of auto care services – from tire replacements to free tire checkups.
Their complimentary inspection service includes free tire inflation and tread inspection, air filter assessment, and an alignment check.
Additionally, their friendly experts will never charge you a penny for refilling tires that are low on air. So if it's time for some routine maintenance or you're looking for new tires entirely, don't wait around:
Make your way to the nearest Firestone Complete Auto Care center where you can expect trustworthy advice and quality workmanship every time.
17. NTB
Next time your car needs a checkup, don't forget to visit the experts at NTB – National Tire and Battery.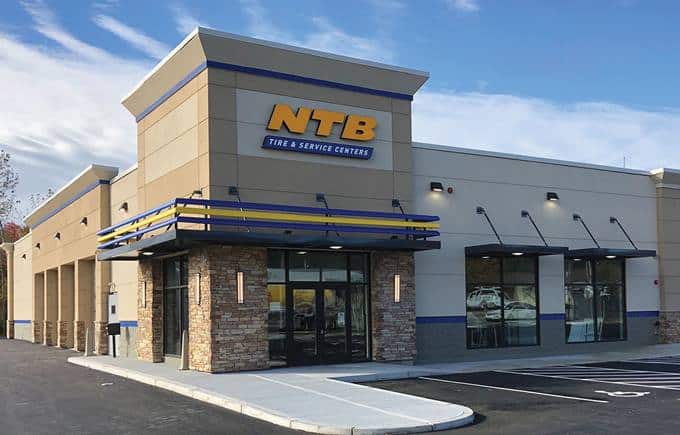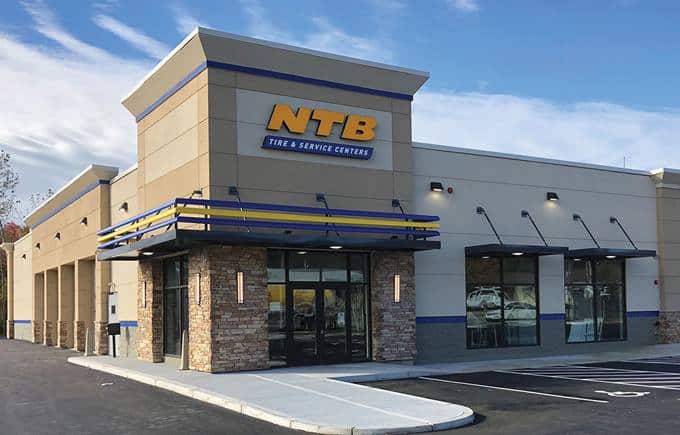 With more than 600 locations across 26 states in the US, NTB is renowned for its affordable prices, vast tire selection, and comprehensive services like oil changes and routine maintenance.
No matter which location you go to, you can benefit from the free air pressure check service performed by their professionally trained technicians.
They will ensure each of your vehicle's tires are inflated to proper levels which helps improve safety and performance in driving.
At NTB, they value customer satisfaction and guarantee quality service with every visit.
That's why an NTB location should be your first choice when it comes to taking care of your automotive needs – all delivered at cost-effective rates!
18. Just Tires
Looking for an all-inclusive auto maintenance solution?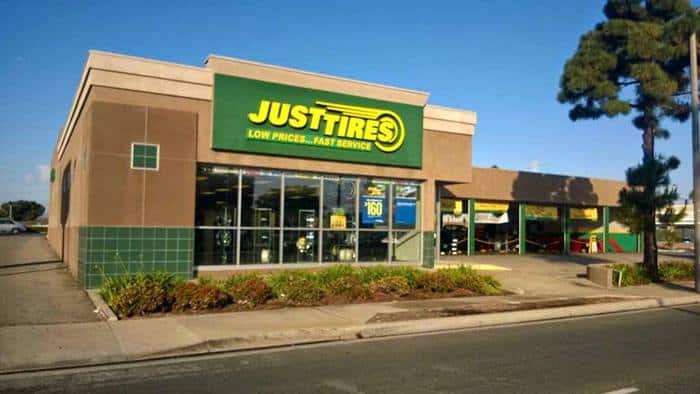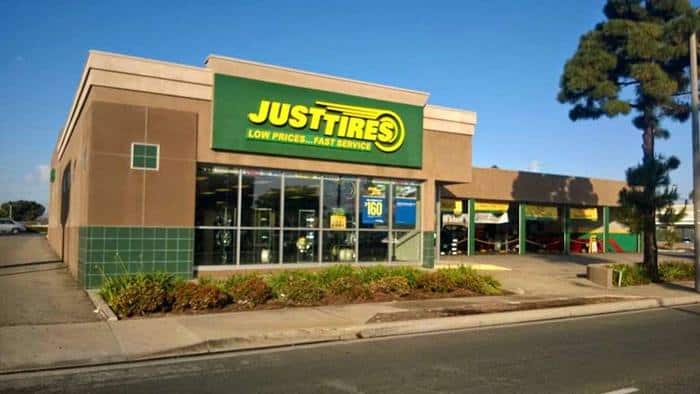 Look no further than Just Tires! With over 500 locations and a massive range of services, from brake and oil changes to more complex repairs, you can count on them for all your car care needs.
But what sets Just Tires apart is their dedication to keeping you safe on the road.
Swing by any one of their stores and the knowledgeable technicians will give your tires a free inspection plus an air pressure check – absolutely free! If they note that your tire pressure could do with a boost, they'll inflate them to optimal levels so you can feel more secure behind the wheel.
So why not make Just Tires your destination of choice for top-notch auto care without any added stress?
19. Stewart's Shop
If you're hitting the road in New York or Vermont, make sure you don't miss out on Stewart's Shop pit stop.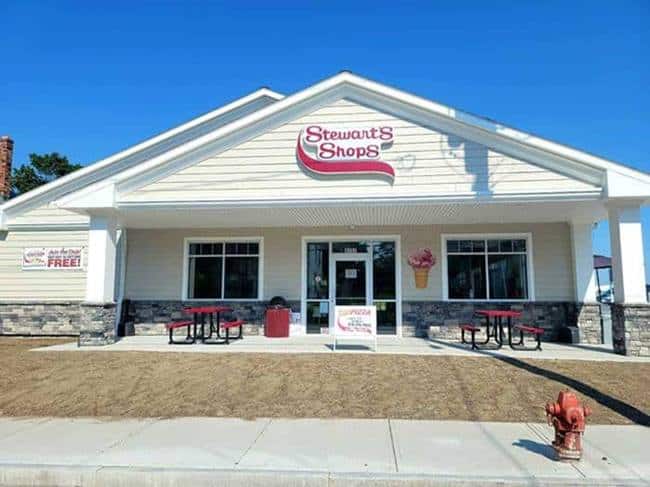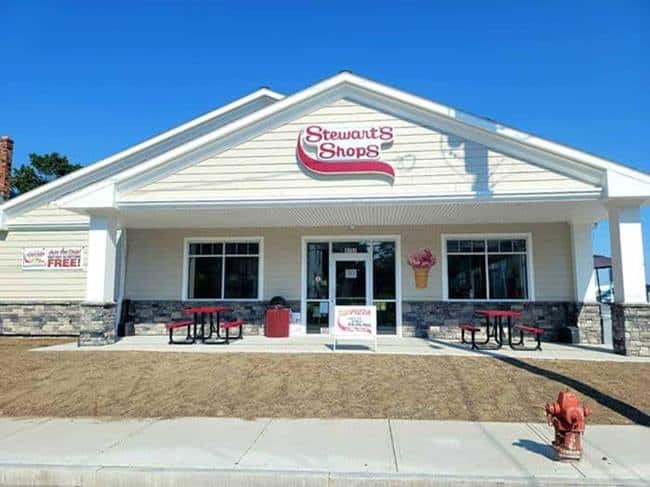 This family-owned chain of over 300 gas stations and convenience stores offers more than just fueling your vehicle – they have free air pumps so your tires can stay safe and worry-free.
Plus, you can enjoy their selection of beverages, milk, snacks, and groceries.
Plus, with plenty of locations across New York and its surrounding areas like Long Island, Asbury Park, and Freehold Township, it's easy to find a store near you.
For even more convenience for all your road trip needs, sign up on their website for special offers available anywhere at any of their stores!
20. Get Go
If you're in Maryland, Ohio, Pennsylvania, or West Virginia, get ready for a super convenient shopping and tire maintenance experience!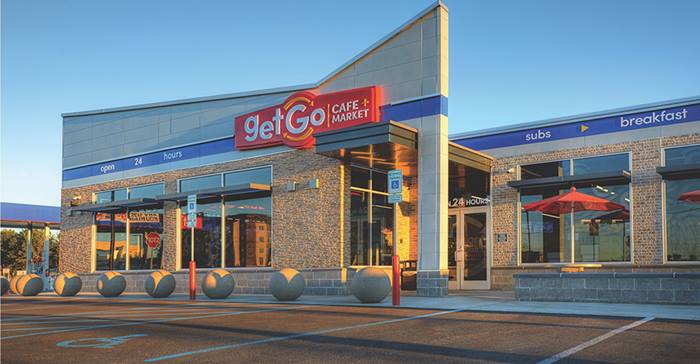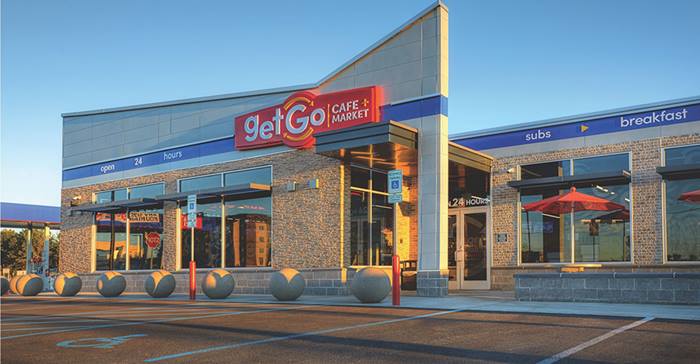 GetGo, the subsidiary of Giant Eagle supermarket giant, has got your back. With over 250 locations spread across these four states, GetGo is making topping up your grocery list and car tires so much easier.
At their stations, there are user-friendly automated machines that allow you to check and inflate your tires absolutely free! It's their way of helping you stay safe on the road while saving time and effort.
To find a GetGo near you simply head to their store locator or download the app. With a few clicks locating a store near you is made easier than ever!
So whenever life gets hectic don't forget to head down to your local GetGo at Giant Eagle for an amazing hassle-free shopping and tire inflation experience.
21. FreeAirPump.com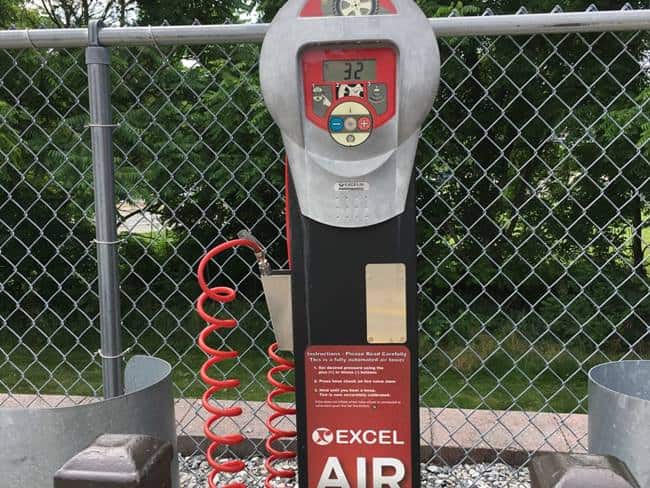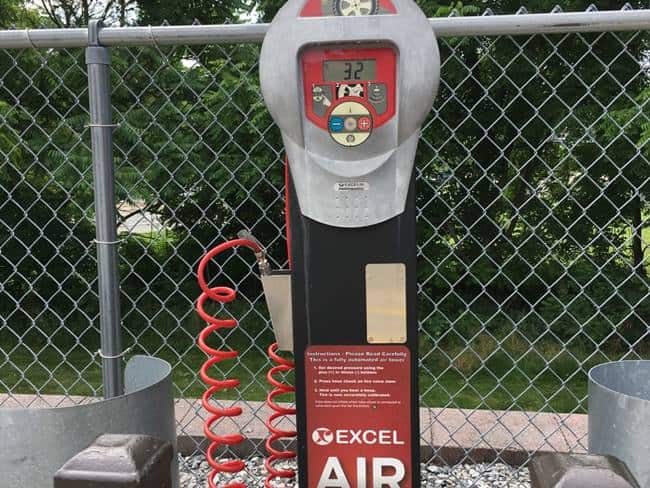 Don't get stuck with a flat tire or an underinflated set of tires – head over to FreeAirPump.com!
This user-friendly website is your go-to online destination for locating free air pumps in just about any city you visit.
With our comprehensive geo map and user-generated data, you can quickly zoom in on gas stations and bike repair locations offering free tire filling services.
On your two wheels? We've got you covered too – the map includes plenty of spots to pump up your bike tires or fix a flat with ease.
So, no matter if you're cruising on four wheels or two, you'll still get a smoother ride on the road and save some money with FreeAirPump.com!
Don't wait any longer – explore countless locations nationwide and find yourself a free air pump today!
22. Car Dealers
Greetings fellow drivers!
In need of quick tire inflation? Don't despair – most car dealerships provide free air for your tires, so you'd be in luck if you choose to head down that way.
When it comes to getting an oil change, however, other places might be more affordable.
But hey, at least you get the air without breaking your bank account – what's not to like? While it's true that you may not have to be a buying customer in order to benefit from such assistance, most dealerships still offer their help out of simple courtesy.
Just remember that dealership auto shops are usually open during limited hours and possibly closed on Sundays.
So if ever you find yourself needing a bit of tire assistance, don't forget car dealerships can come to the rescue! Just make sure you check their schedule first so it saves us both some time. Enjoy your travels!
With these extensive options, there's never an excuse for flat tires again!
FAQs
Are you in need of free air for your tires but don't want to visit a convenience store?
Don't worry, there are plenty of spots that won't put your wallet in the red!
Here are some places to look for some complimentary compressed air:
•Oil change locations often have free air as part of their services. Simply ask politely if the mechanic can offer a top-off so your tires stay full.
• If you pass gas stations catering to large RVs or trucks, they likely have complimentary air pumps at the ready.
Frequent car dealerships?
They usually provide free air too – on top of all their great services! Just ask one of their helpful staff if you can use their compressor.
Heading through The Sunshine State anytime soon?
Be sure to make a pit stop at any Turnpike Rest Stops for a free tire fill-up!
​So what's the deal with gas station pumps: are these still cost-free?
It depends on where you go; many around the country now have coin-operated machines.
However, California has a law that states any fueling station providing petrol must also provide no-cost compressed air and water (for automotive purposes) to customers who purchase from them – how great is that?
Now you know where to find budget-friendly tire inflation – so happy travels until we meet again!
Other Articles