The Pizza Hut Franchise is a globally recognized brand and a proven business concept, as indicated by more than 7,500 restaurants in the United States and more than 5,100 restaurants in more than 94 countries and territories around the world.
The company was born in 1958 in Kansas, USA and since then Pizza Hut has grown dramatically.
It is already more than 55 years of experience and refinement of the know-how that characterizes Pizza Hut.
Is Pizza Hut Better Than Dominos?
The main sign of identity and differentiating element is the extraordinary quality of its products and ingredients.
Pizza Hut has a wide variety of pizzas, specializing in Pan Pizza, Classic Pizza, and Rolling Pizza, the only one with a cheese-filled rim.
There are also numerous starters, pasta, and fresh salads for those looking for an alternative to pizza.
Other signs of identity are the emphasis given to customer service, the central axis of the activity, as well as the continuous innovation and development of new products, ingredients, and combinations, which allow Pizza Hut to be always one step ahead of the competition and to meet the demands of the most demanding consumers.
The Pizza Hut franchise has the ability to bring a well-known brand of pizza at an affordable price to its customers.
Customers know and recognize the Pizza Hut brand and love the product, which is why it is America's favorite pizza.
Joining Pizza Hut as a franchisee means having the support of a brand and know-how that stands out from other brands.
The head office will give you the tools and unparalleled support to run a successful business and leverage the power of Pizza Hut.
The company is committed to franchisees who are willing and able to manage multiple units, preferably with experience in the hospitality industry, and who are willing to be directly involved in the operation and control of their business.
The Pizza Hut franchise has three business concepts that adapt to the needs of each franchisee and area;
PH Dine-In or traditional restaurant, PH Delivery is dedicated to home delivery and take away, and Express, for the commercialization of taking away pizza slices.
Pizza Hut's parent company, Yum! which owns brands such as KFC and Taco Bell, is the largest restaurant company in the world in terms of the number of restaurants. It has more than 37,000 locations in more than 117 countries and territories.
Related >> Hungry for Savings? Explore 112+ Restaurant Apps Dishing Out Free Food
Why is Pizza Hut More Expensive Than Dominos?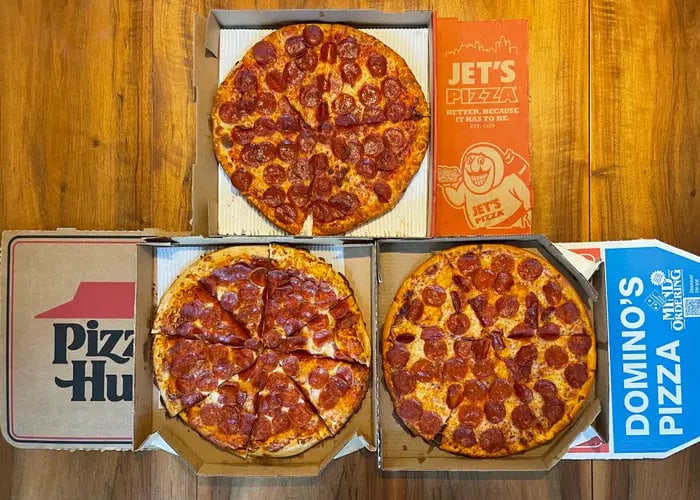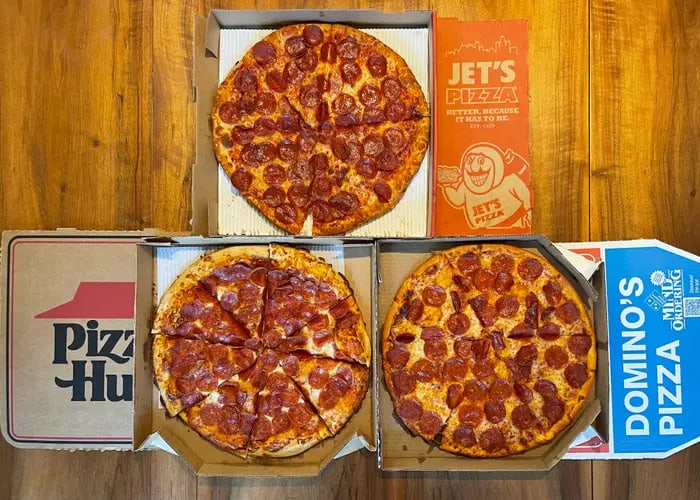 The parameter to make the comparison as fair as possible was to try a traditional pizza of the same flavor in an equivalent size. The chosen one was pepperoni in a "large" size; the purpose was to know which one is more convenient for your pocket in terms of price/quality ratio.
How much do they cost?
Domino's Pizza: $13.9
Pizza Hut: $15.9
Service
Domino's Pizza: It was the first to arrive, took about 30 minutes.
Pizza Hut: We waited about 45 minutes for it to arrive. However, it is important to say that the location was further away than the other chains.
Calories (per slice)
Domino's Pizza: 310 kcal
Pizza Hut: 260 kcal
Ingredients
Amount of pepperoni (slices)
Domino's Pizza: 27
Pizza Hut: 29
Bread
Domino's Pizza: It has a fluffier and more consistent dough, which makes it a thicker pizza.
Pizza Hut: Overall, I agree that the bread is dry and lumpy.
Meat
Domino's Pizza: For some, it was the best meat, you have to consider that it is the most "spicy".
Pizza Hut: Nice flavor, golden brown and crispy.
Sauce
Domino's Pizza: Nice flavor and plenty of it.
Pizza Hut: Loses flavor against the rest of the ingredients.
Cheese
Domino's Pizza: It is the pizza with the most cheese, of acceptable quality, although it does not stand out much.
Pizza Hut: It definitely has the best cheese compared to the rest.
Shore
Domino's Pizza: It is the thickest shore, has spices that make it stand out, the bread is not dry.
Pizza Hut: A thin edge, but dry and tasteless.
Conclusions
If we consider the quality/price ratio, the least convenient is Pizza Hut. It costs more than Dominos and in direct confrontation, the only ingredient in which it wins is cheese, but it does not have enough.
Between Domino's Pizza and Pizza Hut, there are some striking differences: the first is recommended for those who like bread and abundant ingredients, in quantities, it is the most generous of all.
The truth is that you get more for your money with Pizza Hut.
What are the Sizes of Pizza Hut Pizzas?
The basic sizes of Pizza Hut pizzas are small, medium, and family. The small pizza is ideal for one person and consists of 4 portions.
The medium pizza has 6 portions, ideal for 2 people. And the family pizza consists of 8 portions, although larger, especially for sharing between 3 people.
Is Pizza Hut Charging For Delivery?
Yes, Pizza Hut has a delivery fee. With my response, I'll go a step further. The Delivery Charge does not go to the driver, contrary to popular belief.
Mileage is paid to delivery drivers, and it is now 44 cents per mile. It hasn't increased in over a year. The delivery fee is paid directly to corporate or the store's franchise.
The delivery fee remains constant regardless of how much is ordered or how far the destination is.
Each store has a defined delivery region, and they do not deliver outside of it without authorization from the chain's higher-ups. There is no infringement on the domain of another store! A minimum Wage is paid to delivery drivers!
FREQUENTLY ASKED QUESTIONS
– How can I find a Pizza Hut?
The best way is to use your zip code in the store locator, that way you will also know if you are in the delivery area.
Click here to find your nearest Pizza Hut. If you don't know your zip code you can enter your city.
– How do I change my assigned store?
Once logged in to your account, start a new order, under your usual addresses you will find the option to "Enter a new address".
The nearest store will be assigned to you and will automatically be saved in your delivery addresses.
You cannot choose the delivery store, but you will be able to choose the store where you want to pick up your order.
– Do holidays have the same opening hours?
Not all Pizza Hut stores are open on holidays. We recommend that you contact your store to verify that they are open and check their hours of operation.
PRODUCT
– How can I choose the ingredients?
By accessing the Pizzas tab you can create a pizza with your favorite ingredients by selecting the pizza "to your liking", or modifying the ingredients of one of our specialties, by selecting the one you want and clicking on the "customize!" button.
– How do you make a pizza in halves?
You can customize your pizza completely by choosing the pizza "to your liking" or selecting your favorite pizza and clicking on "customize" to modify the ingredients. Here you will find the option "I want a pizza in halves" to configure two different halves in the same pizza.
– Are there gluten-free pizzas?
At the moment Pizza hut has gluten-free pizzas of medium size and 3 specialties: Ham-bacon, four-cheese, and Barbecue.
– Are there lactose-free pizzas?
We do not have lactose-free pizzas, but you can make your Pizza to taste and remove the cheese and let the store know. We also recommend you check our list of allergens so that you know the characteristics of our products.
ORDER
– How can I cancel my order?
To cancel your order it is necessary that you contact the store in charge of preparing it. You can find the telephone number of your store in the order confirmation email we send you or look for it in our Store Locator.
Why can't my local Pizza Hut deliver to my home?
The delivery zones are based on zip codes and delivery time (we want to make sure we are able to deliver your best pizza piping hot).
If you are unable to receive home delivery, all Pizza Hut locations have Local and Pick Up services.
– I want to know the status of my order
To check the status of your order you must first be registered as a Pizza Hut customer. Once logged in to your account you can track your order.
– I want to place an order
You can place an order by logging in to your Pizza Hut account or if you prefer as an unregistered user.
You will have to select whether you want your order to be delivered or picked up and fill in the address or the store where you want it.
Then you will have access to the menu of your store and you will be able to choose your favorite products or apply for the promotions that most interest you.
Other Pizza Hut Articles:
Pizza Hut Delivery, Hour and Deal
Pizza Hut Promo Code and Discounts
Pizza Hut Specials And Coupons
Other Articles