Diapers are an inevitable need for your children and I am certain you want to make sure that you give them the best to keep them comfortable all the time.
But are you in a dilemma as to which diaper would be best for your child because you've never had to buy diapers or maybe your current diaper brand leaks and causes a rash or maybe it makes your baby uncomfortable?
Or perhaps every time you buy diapers, it takes a heavy toll on your wallet and lightens it. If the answer to any of these is yes, then you need most definitely need a good solution to your diaper troubles.
This is why I present to you "Hello Bello diapers", the diaper brand that is super comfortable keeps leaks to a minimum, and is also pocket and budget-friendly.
Hello Bello diapers are free of phthalates, fragrances, lotions, chlorine, and carcinogens, making them a superb choice and you know what's even better?
It is a budget and pocket-friendly brand, meaning you're getting diapers of the best quality at a price that keeps you and your wallet smiling.
How can I get free Hello Bello diapers?
Free diapers?! That definitely sounds like a source of relief to you as a parent or caregiver; because when you consider the expense that goes into the purchase of a year's worth of quality diapers, you realize that it costs thousands of dollars.
In relation to this, I have good news for you, Hello Bello is giving out free diapers for a limited time, in an offer of a pack of 35 diapers for neonates or size 1 diapers.
It's a free-for-all offer, meaning anyone can be a beneficiary of this offer and if you wish to benefit from this offer, all you have to do is to go to Hello Bello (www.hellobello.com), fill in your information (as an expecting mother or a new mother), and pay a $1.00 shipping fee using the coupon code "FREEDIAPERS" to get your free pack of diapers, fast and easy.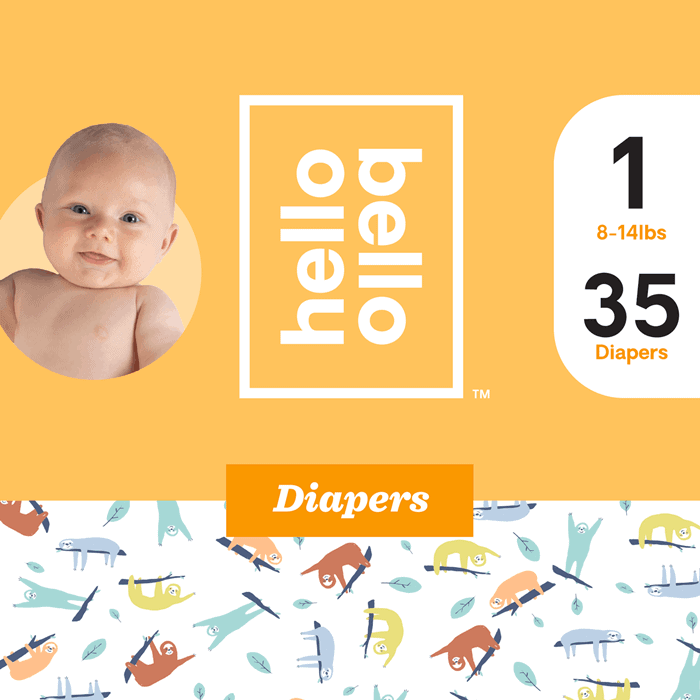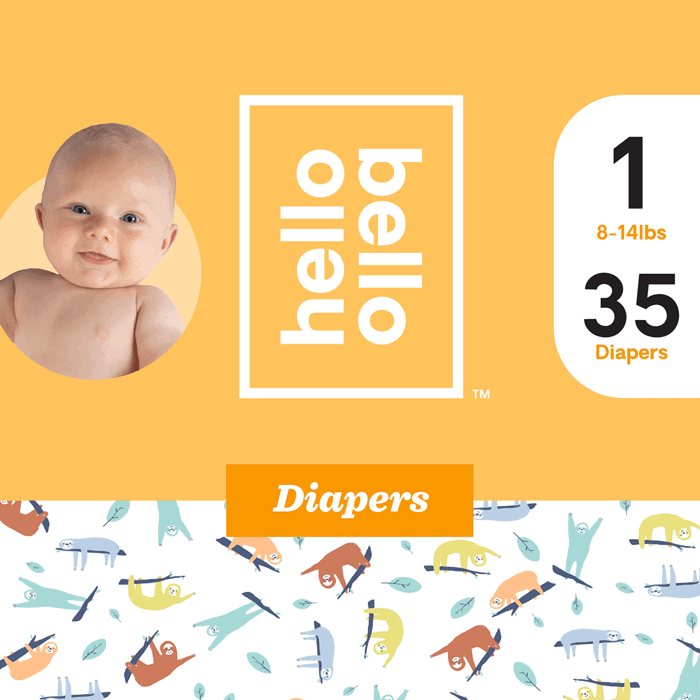 Is Hello Bello a good deal?
In no uncertain terms, the answer is YES! I can assure you that Hello Bello diapers are as good a deal as you can get; for your baby as well as your pocket.
Why? Because with Hello Bello diapers, you are getting a high-class diaper made from materials of the best quality at a cheap, budget-friendly price.
Hello Bello diapers predominantly make use of plant-based substances in making their diapers and the diapers are super soft and absorbent, hypoallergenic, have a wetness indicator, are aesthetically pleasing,
and are also made with a chlorine-free, sustainably harvested fluff pulp which is in contrast to a majority of other diaper brands that use petroleum-based plastics as their diaper basis and use Chlorine bleaching to improve the absorbency of their diapers which is quite harmful to the planet.
Hello Bello has invested in the use of plant-based alternatives which are very efficient as well as eco-friendly, hence, you can be sure you're actively playing a part in the health of the planet.
It packs all these benefits, yet when the average price was compared with the average price of other major diaper brands in the market, such as;
Pampers diapers,
Andy pandy diapers,
Luvs diapers,
Huggies diapers,
Goodnites bedtime,
Dyper bamboo baby diapers,
Beau & Belle diapers,
Wegreeco diapers, etc.
Hello Bello ranked in the top two cheapest diaper brands, even though its quality places it above the majority of the other brands.
Hello Bello has gotten thousands of positive reviews on different platforms, including Trust Pilot; where it has a great 4.2/5 rating in over 2,200 reviews, with 71% of the ratings being 5-star ratings and 16% of the ratings being 4-star ratings.
The several opinions of parents and caregivers are enough testament to the integrity of the Hello Bello diaper brand.
Using Hello Bello diapers also comes with several other benefits you won't find anywhere else, such as; the fact that when you subscribe on their website and you pick the product you wish to purchase (diapers, training pants, or both)
and then you choose the size and beautiful design you want (up to 7 different cute designs), you get to pick a free Hello Bello product of your choice which would be delivered along with your purchase, ranging from baby oil to diaper rash cream to prenatal vitamins to kid's body lotion, kid's shampoo, and body wash, kid's conditioner in different flavors, baby wipes, baby powder, bubble bath-lavender, mosquito repellent, etc.
And there's more, once you've selected the products you wish to purchase, you are automatically eligible for an additional 15% discount on up to 5 additional products from the vast catalog of Hello Bello products on the website
(Hand sanitizer sprays, hand sanitizer gels, swim diapers, SPF 50, SPF 55, SPF 30 mineral sunscreen lotions, body lotions, glass cleaner refill, sleep sweet nighttime bubble bath, sleep sweet nighttime shampoo + body wash, plushie – cuddle bag, plushie – little cub, birthday bash bath gift set, wood, and floor cleaner refill, multisurface cleaner refill, glittery bath bombs, backpack diaper bag, surface wipes, concentrated laundry detergent, grocery nosey wipes, premium conditioner, etc.).
Also, shipping is absolutely free! I don't think you can possibly get a better deal on the purchase of diapers than what Hello Bello is offering.
Therefore, without a single iota of doubt, I can assure you that Hello Bello is not just a good deal but a great deal in fact.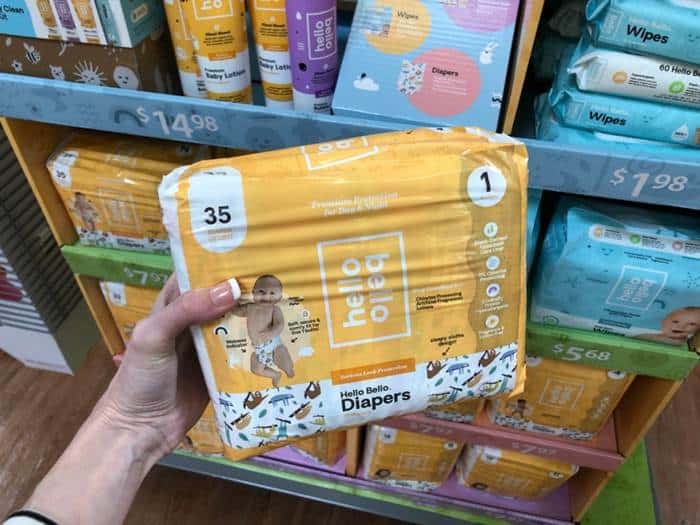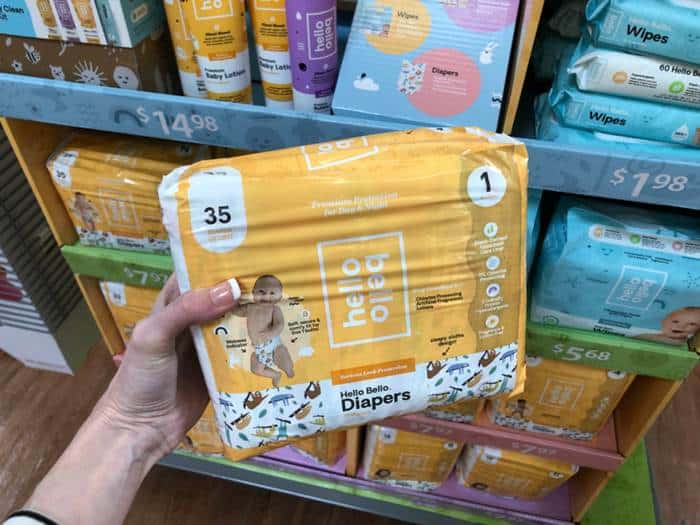 Is Hello Bello cheaper than Huggies?
Yes! I can tell you for a fact that Hello Bello diapers are cheaper than Huggies diapers.
Huggies diapers are a leading brand in the diaper market; hence, a simple study was carried out comparing the diaper prices of different categories of Hello Bello diapers and Huggies diapers using their prices on Walmart as the basic prices.
The results of the research gave the prices for a pack of Huggies diapers for different sizes were:
$58.00 for size 1 diaper (198 diapers, an average of 29.3cents for each diaper),
$59.99 for size 3 diapers (84 diapers, an average of 71.4cents for each diaper),
$39.76 for size 4 diapers (120 diapers, an average of 33.1cents for each diaper),
$69.99 for size 6 diapers (96 diapers, an average of 72.9cents for each diaper),
while the prices for a pack of Hello Bello diapers in different sizes were:
$10.17 for size 1 diaper (35 diapers, an average of 29.1cents for each diaper),  
$10.35 for size 3 diapers (27 diapers, an average of 38.3cents for each diaper),
$7.97 for size 4 diapers (23 diapers, an average of 34.7cents for each diaper),
$9.45 for size 6 diapers (17 diapers, an average of 55.5 cents for each diaper).
The results show a very significant difference in the diaper prices of both brands for some sizes; the price of Huggies diapers doubles that of Hello Bello diapers for some sizes despite the fact that the quality of Hello Bello diapers is in no way inferior to that of Huggies and is even better in that it is free from phthalates which are present in Huggies diapers and possibly other harmful toxins.
This further stamps the fact that Hello Bello diapers are very high-quality diapers that are eco-friendly, affordable, pocket-friendly, and budget-friendly.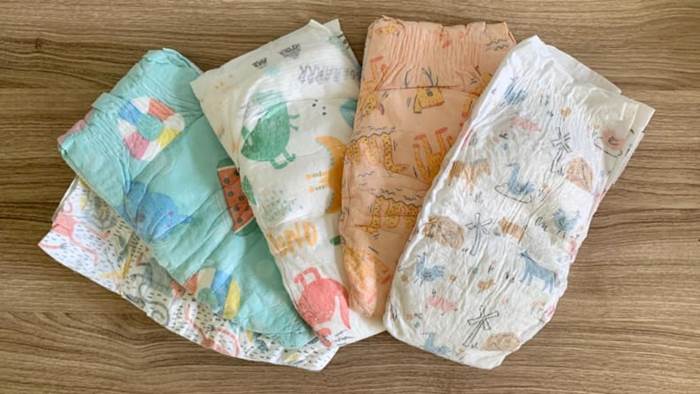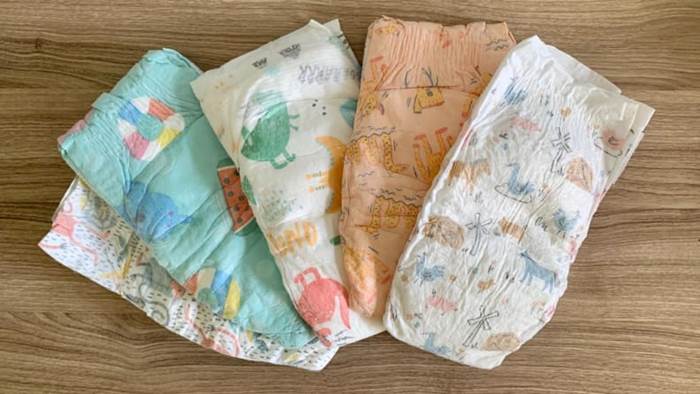 Frequently Asked Questions (FAQs) on Hello Bello Diapers?
Should you buy Hello Bello diapers?
Yes, these are well-made diapers sold at a competitive price.
Diapers are a personal preference, just like many other products we select for our babies, but Hello Bello offers a whole package that many other brands do not: well-made diapers with cute prints, customizable packages, and fun packaging that can be reused for baby enjoyment.
What size should I get?
The number of diapers per pack varies depending on the size, but you can expect 17 to 35 diapers per pack (the larger the size, the fewer diapers are included).
The following are the various sizes of diapers that Hello Bello has to offer:
Newborn: up to 10 lbs.
Size 1: 8 to 12 pounds
Size 2:10 to 16 pounds
Size 3:14 to 24 lbs
Size 4:22 to 37 lbs
Size 5:27 lbs and over
Size 6:35 lbs and over
How comfortable are the Hello Bello diapers?
The inner pad is specially designed for optimal performance with a unique spherical super absorbent polymer (SAP).
This technology promotes drying while keeping moisture locked in as bubbles to protect against leakage. The added bonus is that the diaper stays close to the body even when soiled, preventing sagging and providing a comfortable leak-proof fit!
Other Articles